If the shelf hadn't crashed, "Evangeline's Creole Home Kitchen Recipes" would still be stuffed between cookbooks, unnoticed and forgotten.
It's not that Cheryll Guilbeau didn't know about the recipe booklet. It was passed down to her by her grandmother, Carmen Bulliard Montegut, whose father, Edmond Bulliard, founded and operated the Evangeline Pepper & Food Products in St. Martinville.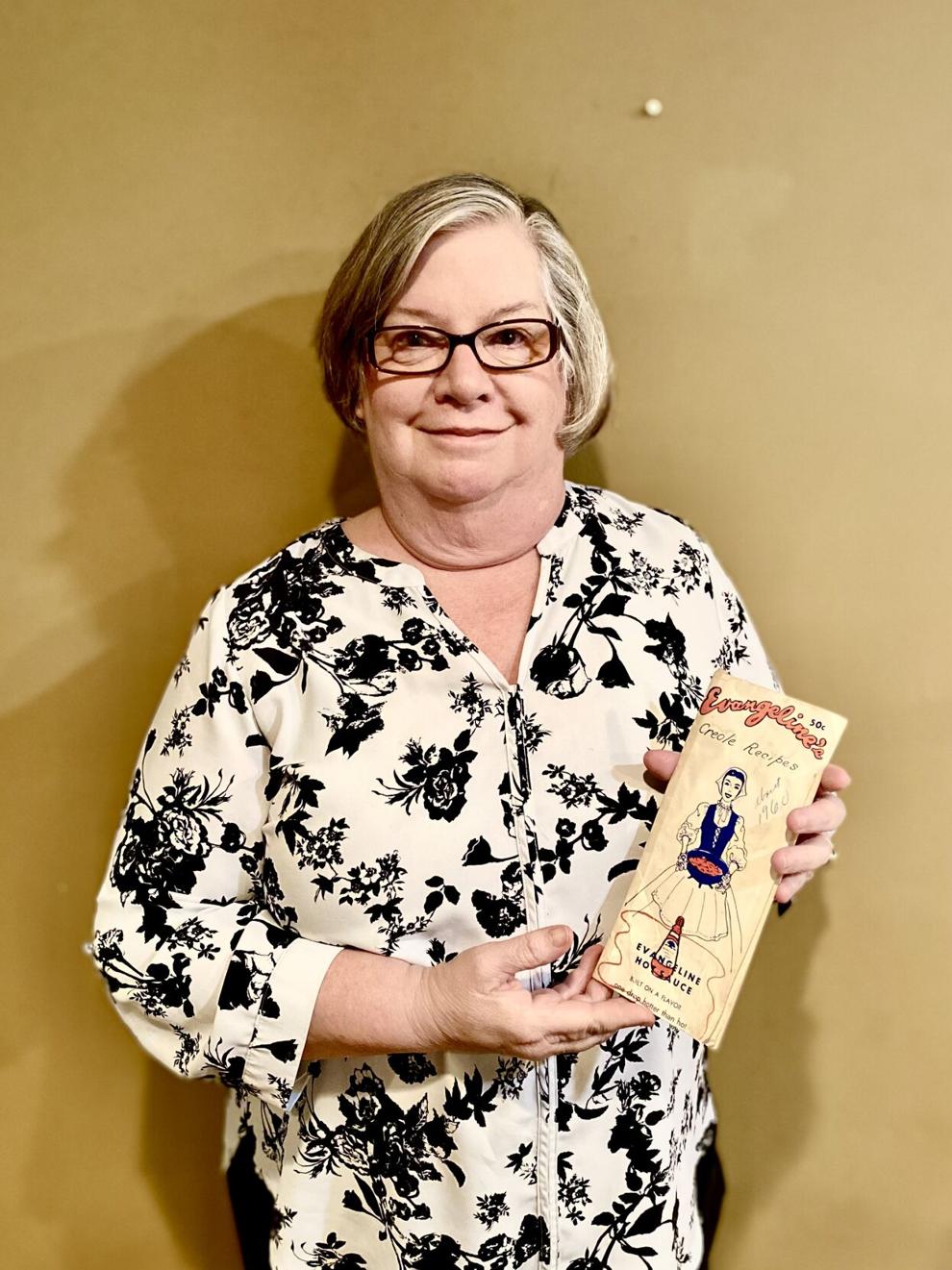 Bulliard's company published the 19-page booklet in 1960 with shared recipes for cush-cush, sucre brule and chicken-okra gumbo — all for 50 cents.
Guilbeau remembers the recipes. They were the same dishes from childhood visits to her grandmother's house.
But the booklet was out-of-sight, out-of-mind for years until Guilbeau's pantry shelf crashed under too much weight in her Lafayette home. Make that book weight, because it was loaded with some of her collection of 300-plus cookbooks.
And while cleaning up the mess, the booklet appeared with its mix of family memories and history, all leading to a lone smokestack standing in a field on the edge of St. Martinville.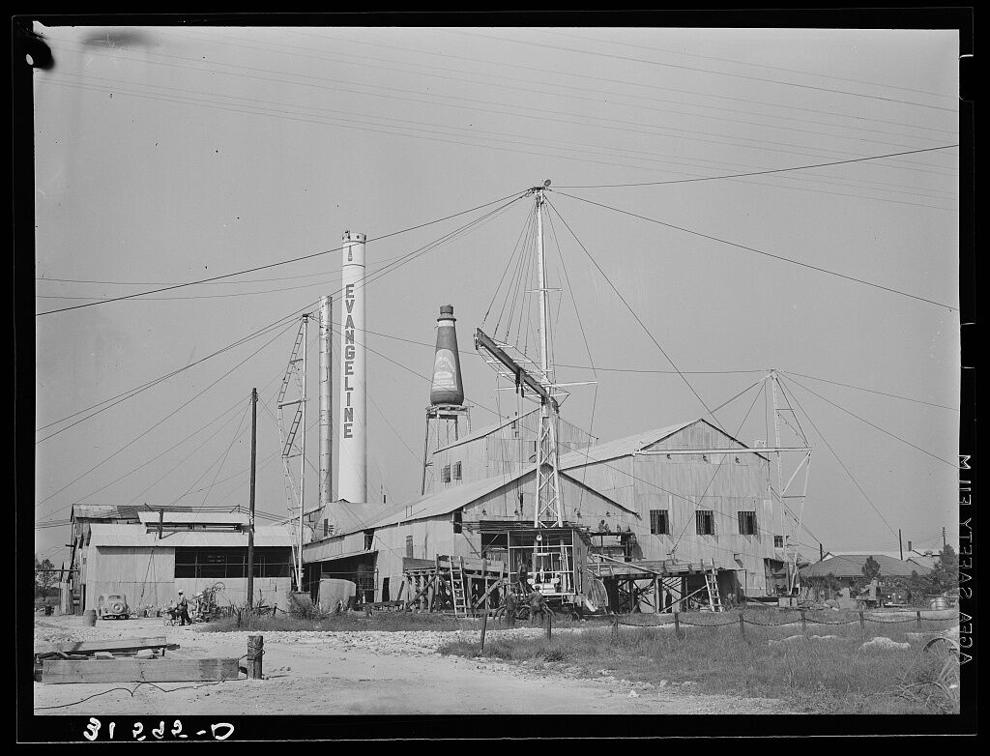 It's all that's left of Guilbeau's great-grandfather's business, though some of his grandchildren and great-grandchildren have revived the business through Peppers Unlimited of Louisiana, Inc. If you download the company's online cookbook, you'll see the same recipes found in Guilbeau's booklet.
No surprise there. Same family, same recipes, right? There's no fixing perfection, and as Guilbeau remembers it, those recipes were perfect back then.
They're still perfect today, so much that when Guilbeau saw a recipe posted on the Lafayette Memories group page on Facebook, she knew it was the same one that had been passed down from her great-grandmother to her grandmother.
And if there was any doubt, she had the book.
"When I saw that, I said, 'Oh, well, that's from the factory owned by my great-grandfather, so I posted back," Guilbeau said. "It was crazy how many people were interested in this."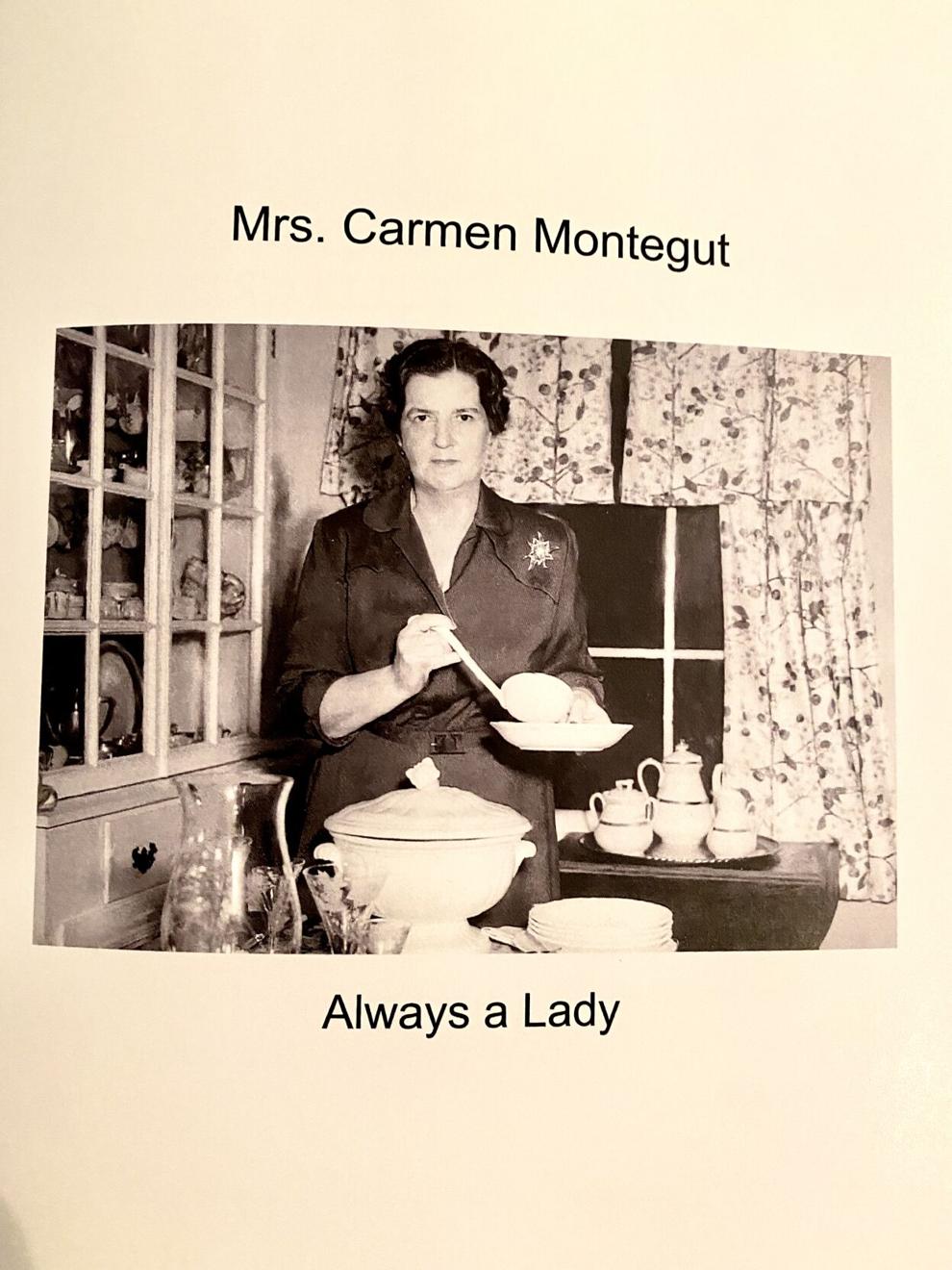 Group members began asking questions. One even posted a photo of Edmond Bulliard's St. Martinville factory with its local landmark, a super-sized bottle of Bulliard's Evangeline Brand Red Hot Sauce, towering overhead.
Guilbeau is related to the Bulliards through her mom, who died last year, and was the founder of the legendary Lafayette outdoors story, Pack & Paddle. Guilbeau doesn't claim to have a direct connection to the revived family business. Her immediate family established itself in Lafayette, where Guilbeau now runs the gift shop in the Hilliard Art Museum at the University of Louisiana at Lafayette.
Still, the family history is part of her own.
In 1910, her great-grandparents, Edmond and Louise Bulliard, developed and bottled a cayenne pepper sauce in their St. Martinville kitchen. In the history on its website, peppersunlimitedofla.com, Peppers Unlimited notes that this was the commercially sold cayenne pepper sauce. 
"From neighbors and friends to palates worldwide, Edmond and his nine children grew their handcrafted home business into an international industry, which at its peak employed close to 400 members of our community," Peppers Unlimited's history continues. "One hundred years and four generations later, Peppers Unlimited of Louisiana, Inc., carries on the family legacy — bottling pepper perfection through a community-based business with a world reach."
"He was in direct competition with the McIlhenneys in those days," Guilbeau said.
She refers to the McIlhenney family's Tabasco Brand hot sauce, which is still mixed and bottled in Avery Island near New Iberia.
Now Peppers Unlimited founder and company president George E. Bulliard Sr. is continuing the family tradition.
But for Guilbeau, that tradition is found in her great-grandmother's cook booklet. Her copy is dated "about 1960" in her grandmother's handwriting on the cover.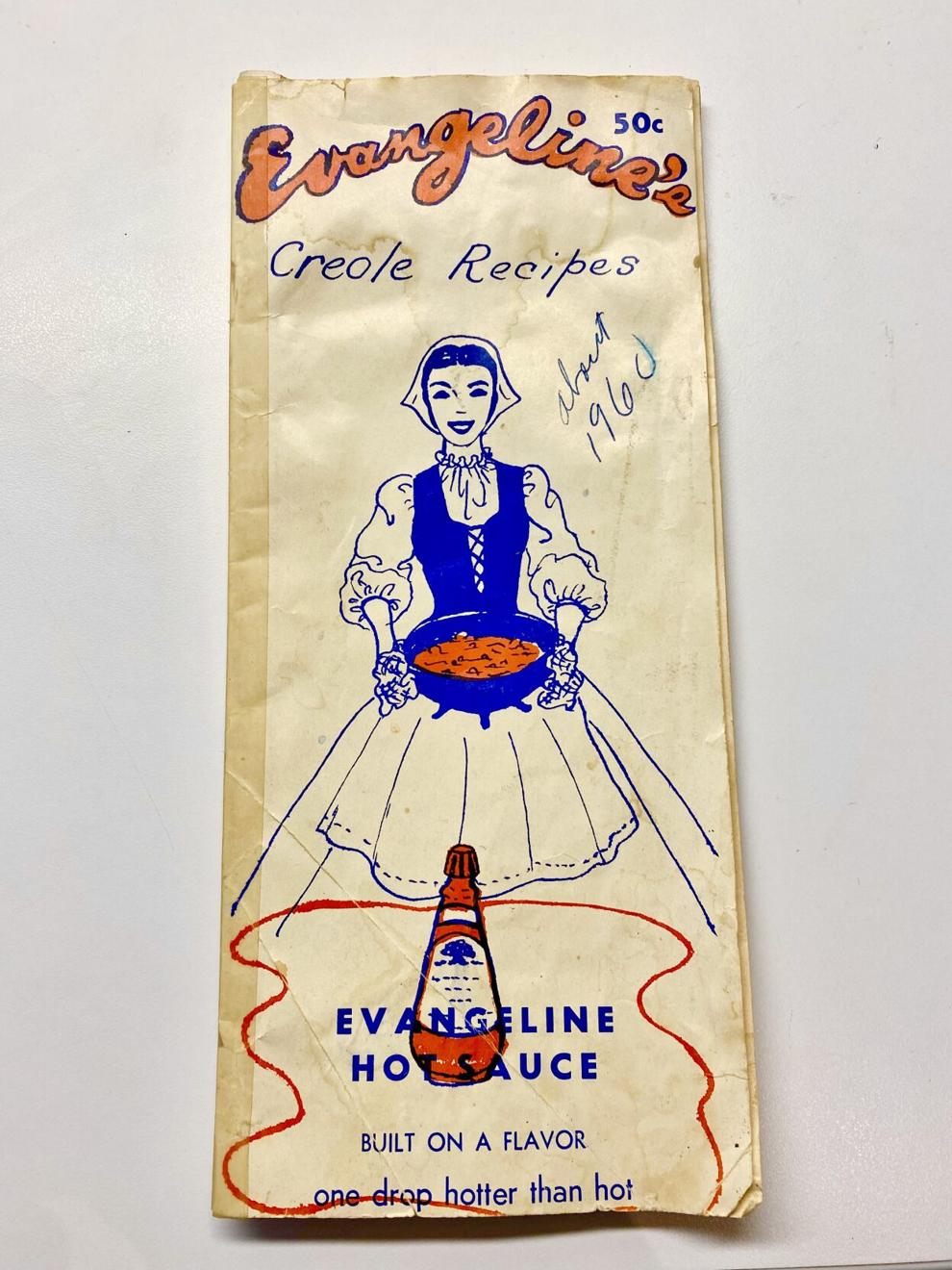 "And the recipes my grandmother used when I was growing up are the same recipes in my great-grandmother's book," Guilbeau said. "My mother was a businesswoman, and she didn't cook until after she retired. She opened Pack & Paddle in 1974 in Lafayette, and my father was the area's first pediatric dentist. Pack & Paddle took off, and he eventually left his practice to help my mom. So, my grandmother taught me to cook."
Guilbeau remembers summer days spent at her grandparents' camp in the Atchafalaya Basin, which was equipped with a full kitchen. Still, her grandmother, many times, chose to cook outside.
"She would put a skillet on a burner that looked like it was for boiling crawfish," Guilbeau said. "And we loved it. We had so much fun at that camp."
Some of Guilbeau's best memories of those summers can be found in the old booklet — memories that might have remained out-of-sight, out-of-mind if her pantry shelf hadn't collapsed.
Cush-Cush
From "Evangeline's Creole Home Kitchen Recipes." Recipe states, "An old-fashioned iron pot is an excellent utensil to use; This dish may also be served with 'Sucre Brule.'"
2 cups cornmeal
1½ teaspoons salt
1 teaspoon baking powder
1½ cups milk or water
½ cup cooking oil, heated well
1. Mix the first four ingredients thoroughly, being sure that it is not too dry.
2. Put into hot oil and let form a crust.
3. Give a good stir and lower flame to simmer, cover and cook 15 minutes.
4. Serve with milk as a cereal or pour Evangeline Old Tom Pure Cane Syrup on top and serve with a glass of milk.
Crayfish Stew
From "Evangeline's Creole Home Kitchen Recipes"
25 pounds crayfish
1 cup cooking oil
3 large onions, minced fine
1 cup flour
Salt, to taste
1 clove garlic, minced fine (optional)
Dash, Evangeline Powdered Red Pepper or Evangeline Hot Sauce
3 pieces chopped celery (optional)
½ sweet green pepper, chopped fine parsley and onion tops
1. Cull crayfish, removing dead ones, wash thoroughly and scald to kill.
1. Pick and put fat and tails into bowl. Into cooking oil, add flour gradually, cook over low flame until dark golden brown and the white film disappears from the roux.
3. Add onions, celery and green peppers.
4. Cook until translucent. To this, add crayfish and fat, let cook until fat comes to the top.
5. If stew is too thick, add boiling water to proper consistency.
6. Add onion tops and parsley and serve with rice or French bread.
Millie's Spaghetti Supreme
Serves 12 generously
From "Evangeline's Creole Home Kitchen Recipes"
2 pounds beef round, ground
2 large chopped onions
2 small cans tomato sauce
1 no. 2 can whole tomatoes
1 large can mushrooms
½ cup cooking oil
1 stick butter
1 small can (4 ounces) pimentos, chopped
½ cup celery, chopped fine
½ cup bell pepper, chopped
1½ pounds American cheese
1 12-ounce package spaghetti
Salt, black pepper to taste
Dash, Evangeline Powdered Red Pepper
1. Fry ground meat and onions in cooking oil, add garlic and tomatoes and tomato sauce and let cook.
2. In separate pan, fry mushrooms, pimentos, celery and green pepper in butter over low flame until soft.
3. Then add to meat. Let cook a few minutes and season with salt and black and red pepper, (if too thick, thin with a little water).
4. Meanwhile, boil spaghetti and grate cheese fine.
5. In casserole, put alternative layers of meat mixture, spaghetti, then cheese, ending with cheese on top.
6. Continue until ingredients are used.
7. Bake in moderate oven 20 to 30 minutes.
Ail-au-Lie Mayonnaise
Evangeline's Creole Home Kitchen Recipes
To mayonnaise made from your favorite recipe add:
1 clove garlic, minced fine
Chopped olives, celery and green peppers to taste
¼ teaspoon Evangeline Worcestershire Sauce
3 to 5 drops Evangeline Hot Sauce
Salt to taste
Mix thoroughly, Ail-au-Lie Mayonnaise is the ideal salad dressing for broiled fish (gaspergou, red fish or red snapper), shrimp or crabmeat.