It was a routine Thursday afternoon at Saratoga Race Course, though that term takes on a much different meaning at the Spa.
The horses were returning after the fourth race, a maiden race for 2-year-olds carrying a claiming tag of $75,000.
There were, of course, robust Saratoga cheers for the winner from the crowd around the winner's circle, but these had a louder and more personal tone than usual.
The fans at the Spa knew they had just witnessed greatness.
They had just seen legendary trainer D. Wayne Lukas win his 4,877th race.
Sign up for BloodHorse Daily
"You're the best, Coach!" one fan yelled.
Yet the number of the victory in this Aug. 25 race was not the important element. It did not represent a milestone or record-breaking achievement.
In this instance, it was just one of a growing number of reminders that Lukas, who turned 87 on Sept. 2, 2022, has been a renaissance in the truest sense of the word.
The fanfare continued when Lukas, wearing his ubiquitous white cowboy hat, and his wife, Laurie, walked back to their seats. Lukas may be hunched over a bit due to a back ailment and uses a walking stick, but the boundless ball of energy still moves around well enough to oversee all aspects of his 35-horse stable and will ride his pony during morning training. 
On this day, the victory put more of a bounce in his step, but as soon as the couple entered the clubhouse, their path was blocked by a wall of fans and well-wishers. As a wide smile filled his face, horse racing's living legend was asked for handshakes, fist bumps, autographs, and, of course, several selfies. A few of the requests, all of which were obliged, came from fans who were in diapers when Lukas turned 65 and became old enough to apply for Medicare.
Yet what produced the most emotion during this love fest was sparked by one gentleman who flashed a mutuel ticket in front of the Hall of Fame trainer.
"Wayne, I loved your horse," he said about Western Ghent , a 13-1 winner. "I put $50 to win on him."
Lukas looked at the ticket and his smile disappeared as he grit his teeth and then balled his right hand and waved it in a fist pump. He then tapped the man in the arm with his fist.
"That's how to do it!" Lukas said emphatically.
All these years and decades later from his arrival in Thoroughbred racing, Lukas is in the midst of a storybook year in which he has opened countless eyes by enjoying his best season in at least eight years, when he set a bar for what a 79-year-old trainer can accomplish.
At an age few people reach and one with a significantly smaller number of individuals still factoring in the work force, the 87-year-old Lukas is once again winning major grade 1 stakes and buying million-dollar yearlings, just as he did when he was setting one earnings record after another as the sport's dominant trainer of the 1980s and 1990s. He has, through his return to prominence, become the sport's beloved granddad and an inspiration to the older generation that age is just a number, not something that can define a person or their value.
Only his pace, literally and physically, has slowed with the passing of time. Not the universal love for him that has blossomed in recent years.
"The fan base has increased beyond my belief," said Lukas, who, in contrast, was a lightning rod for controversy during his record-breaking prime years when he notched the bulk of his 14 Triple Crown wins and record 20 Breeders' Cup victories. "I can't even describe it. There are a lot of fans here at Saratoga, but the same thing happens in Louisville at Churchill Downs. We have people writing to us. I hope they don't pity me that I'm (87 now), but it's very, very gratifying. Gosh, when we win it's amazing to walk through the grandstand. People tell me thank you for all you've done for racing. I feel I've represented the sport as best as I could over the years."
Five years had passed since Lukas' last grade 1 victory when he scripted a heartwarming tale by overcoming the infirmities of his age and two battles with COVID-19 to win the Longines Kentucky Oaks (G1) in May with Briland Farm's Secret Oath , an Arrogate filly it bred along with Robert and Stacy Mitchell.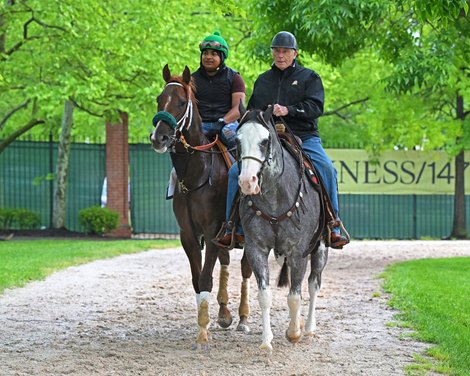 D. Wayne Lukas on his pony Riff accompanies Secret Oath to the track ahead of the Preakness Stakes at Pimlico Race Course
That victory alone would have been one of the memorable moments of the year. Yet the Lukas renaissance has involved more than the heroics of a single horse. 
In a typically bold Lukas move, he ran Secret Oath against the boys in the Preakness Stakes (G1). Sitting in front of her stall at Pimlico Race Course that week before a fourth-place finish, he offered an interesting comment. While speaking about how invigorating the Kentucky Oaks victory was, he interjected that he also had several "very good" 2-year-olds who could be stakes winners.
Often those comments can be merely trainer-speak, but four months later they have proven to be prophetic and explain why what is happening to Lukas was not just a bolt of lightning on the first Friday in May. It's a bona fide revival for one the sport's greatest figures, with, for the first time in years, several owners once again willing to spend ritzy six- or seven-figures on young horses to send him.
"I was confident I had bought five or six or seven horses that were going to be effective and they are," Lukas said. "We even have a few more we haven't showcased yet. We know what to do with them, we just have to get them."
This birthday weekend for Lukas also marks the final weekend at Saratoga and helps to illustrate why he has already registered more money in earnings ($2,886,297) than in any year since 2014. On Sept. 4 he will send out Holy Cow Stable's Naughty Gal  in the $300,000 Spinaway Stakes (G1) for 2-year-old fillies and the following day, he will saddle BC Stables' Bourbon Bash  and the aforementioned Western Ghent, owned by Lukas, his wife, and Bob and Ann Ghent, in the $300,000 Hopeful Stakes (G1) for 2-year-old males. He figures to have a major player in each race with Naughty Gal, a daughter of Into Mischief   bought for $350,000, exiting a victory in the Adirondack Stakes (G3) earlier in the meet and Bourbon Bash, a $280,000 City of Light   colt, coming off an eight-length maiden win Aug. 13 at the Spa. He will also send out Julie Gilbert and Aaron Sones' Ethereal Road  Sept. 3 in the $200,000 Saranac Stakes (G3T).
"We're in the Spinaway with a very contentious filly and the Hopeful has been good to us," said Lukas, who owns a record eight Hopeful victories. "We're looking forward to the weekend very much."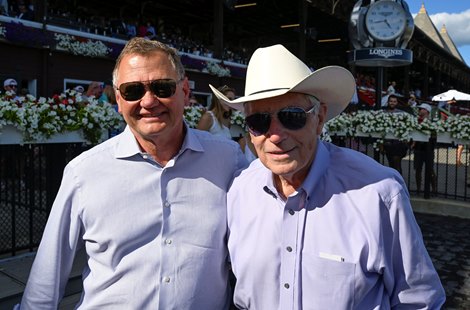 John Bellinger (left) and D. Wayne Lukas at Saratoga Race Course
Bourbon Bash underscores why Lukas' reemergence on the national scene will not be fleeting. He is owned by the BC Stables of John Bellinger and his business partner Brian Coelho, which has given Lukas the financial support he needed to make a splash at the yearling and 2-year-old sales.
"Owners like John look at me and say I did it once, so I can do it again," said Lukas, who estimates his stable has not grown in size but is 50% better than last year. "It's like when Bob Lewis told me he wants me to do for him what I did for Gene Klein. It's a sign of respect when that happens, but it's also something you have to earn."
Bellinger knew Lukas for about seven years before he finally committed to letting the Hall of Famer buy some young horses for him. Though Lukas was 86 at the time, Bellinger had no doubt he was making a wise investment.
"It's been a very special relationship with Wayne," said Bellinger, a Texas businessman who is the CEO of Food Safety Net Services and the Certified Group. "His drive is through the roof. I believe his body will give out before his drive does. His energy level is still there. He's sharp as a tack; Brian and I can see he's having a lot of fun. We've had some good luck already with him and it's fun to see Wayne so energized. We are thrilled to be with him."
Bellinger has five 2-year-olds with Lukas, including the filly Summer Promise , a $500,000 daughter of Uncle Mo   who came out of a second in the Schuylerville Stakes (G3) with a leg injury that will likely sideline her for the rest of the year. Yet what paints an even brighter picture of his bond with Lukas came at last month's Saratoga Sale, Fasig-Tipton's select yearling sale in Saratoga Springs, N.Y., when the iconic trainer signed the ticket on Hip 114, a $1.35 million son of Medaglia d'Oro   out of the grade 3-winning Tapit   filly Walk Close consigned by Four Star Sales.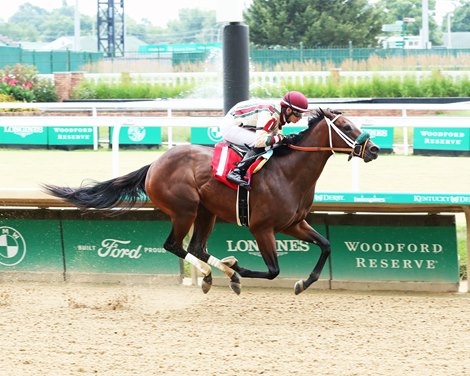 Summer Promise breaks her maiden at Churchill Downs
It was a turning of a dust-covered page in time to an era some three decades ago when Lukas was a kingpin at the major sales.
"I probably haven't paid $1 million for a yearling since the late 1990s, but that colt to me was special. Some very good trainers told me he was one of the best yearlings they had seen at Saratoga in years," said Lukas, who bought five yearlings at Saratoga for a combined $2,725,000 ($545,000 average). "I don't think I've ever had a Medaglia d'Oro, but here's that athletic individual walking in front of me with a good pedigree. He had a lot to like, such as a tremendous walk and balance. I look at three or four thousand yearlings each year and over the years you train your eye to find what you like and what you can live with and if you get some success you keep going back to that type."
For Bellinger, the Medaglia d'Oro colt and two other Saratoga buys, a $425,000 Into Mischief colt and a $425,000 Munnings   filly, are signs of the faith he has in the 87-year-old master of the trade.
"We certainly want to be competitive in the big races. You start with the genetics and conformation. Wayne thought he was one of the best at the sale, and (trainer Bob Baffert) called Wayne afterwards and said it was one of Wayne's best buys. Bob said it was an incredible colt. We are committed to buying some good horses that will give us a chance in the big races, so we'll be shopping for more at the Keeneland sale," he said.
Indeed they will.
"We got five out of the Saratoga sale which is three more than I expected and we are strong enough to get another six or seven at Keeneland and that will give us a nice group for next year," Lukas said.
Bellinger understands what drives Lukas better than must people since one of his business partners is Baseball Hall of Famer Nolan Ryan, who spent 27 years pitching in the major leagues and set an MLB record with 5,714 strikeouts while tossing a no-hitter at the advanced age of 44.
"Nolan Ryan and Wayne remind me of each other. They have the same drive to succeed," Bellinger said. "Winning is important but working with Wayne I am learning so much about the industry. His knowledge, after 60 years in the industry, is priceless and he's giving it to you. I'm 67 and we'll continue to do this for as long as my kids want to."
As for how long Lukas will keep on working, there's no end in sight thanks to his banner 2022. He understands his mortality, a point driven home in 2020 when the four-time Kentucky Derby (G1) winner's first bout with COVID-19 left him struggling to breathe and believing he would not see the next morning.
"I said goodbye to Laurie and my grandson Brady that night. I thought it was the end," Lukas said about battling the deadly virus. "But Brady started massaging my chest and I started to get more and more air and made it through."
But with three graded stakes wins to his credit this year, plus seconds in the Alabama Stakes (G1) and Coaching Club American Oaks (G1) by Secret Oath who is headed to the $1 million Cotillion Stakes (G1) at Parx Racing, he is already envisioning an encore of this past Derby Weekend, when Secret Oath took the Kentucky Oaks and Ethereal Road  was a last-minute defection from the Run for the Roses (which allowed Derby winner Rich Strike  to run).
"My competitive nature plus my passion keeps me going. I'm probably competitive to a fault, but I still get excited about a promising, young 2-year-old. When Bourbon Bash won the other day that was a highlight for me. Those owners are new in the business and trying to get them to the Kentucky Derby in their first year, come on. How great would that be? That's what drives me. I don't think about retirement. I think I'm afraid to retire. What the heck would I do with myself?" said Lukas, who has worked for years with assistant Sebastain Nicholl. "I get up 3 a.m. every day of my life, and if there's no one running that day, I hope there's a football game or something to watch because I'm lost without a horse running. 
"I just don't see myself retiring," he added. "I still ride my pony each day and I love saddling him each day. I believe we can have enough quality to be at the Derby and the Oaks again. Here we go again! Imagine being 87 and looking at being a Derby and Oaks participant again. And you will have a helluva story if we win one again."
Just as racing did this spring when D. Wayne Lukas became its renaissance man.