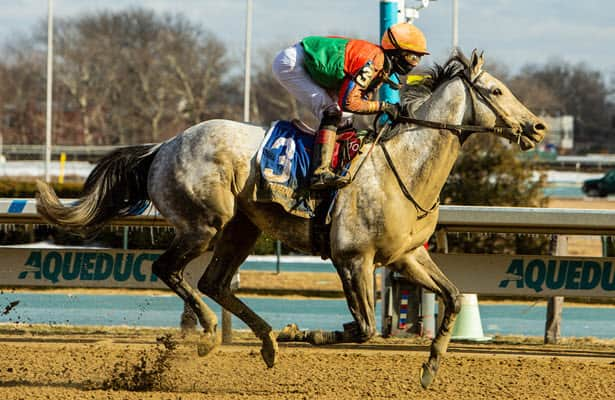 Photo:
Sue Kawczynski / Eclipse Sportswire
The owners of Drafted, who finished fifth in Saturday's Forego Stakes (G1) at Saratoga, have appealed a ruling that would disqualify their horse from both his fifth-place finish and the $26,000 share of the purse due to a riding-crop violation.
Under rules set by the Horseracing Integrity and Safety Authority, a jockey is limited to six strikes with the crop in a race. NYRA stewards determined jockey Luis Rodriguez Castro used it 10 times aboard Drafted, a total that triggers the disqualification. 
As first reported by David Grening of Daily Racing Form, owner Thomas O'Keefe filed an appeal on Friday on behalf of Drafted's ownership group that includes himself, Truls Engebretsen (Dublin Fjord LLC) and William Nichols (Racepoint Stables LLC). They are seeking a hearing and a stay of the purse redistribution. No date has been set for the appeal hearing.
Attorney Andrew Mollica, who represents Drafted's ownership group, emphasized the need for owners to be involved when HISA makes decisions that impact their purse money. He noted that neither Drafted's owners nor their counsel were present when NYRA stewards reviewed Castro's crop violation, resulting in a lack of the procedural due process required by the Constitution.
"Their $26,000 is being taken from them. Under the laws of due process, you can't have something taken from you without notice and a fair hearing."
In cases of a jockey using the riding crop 10 to 13 times, HISA prescribes a three-day suspension, a fine of either $500 or the jockey's share of the purse (whichever is greater), disqualification of the horse, and redistribution of the purse money. If NYRA stewards had determined that a jockey used the crop seven to nine times, a one-day suspension and a $250 fine are prescribed but no disqualification or purse redistribution.
Castro has not appealed his penalty for the crop violation based on 10 strikes, but Mollica argued owners' interests do not end there, since jockeys' interests can diverge from those of horse owners. Mollica cited the sharp difference between the penalties for nine strikes of the crop versus 10, and underscored the need for transparency in film review when thousands of dollars can hinge on the determination of one swing of the crop.
"If we are going to have a taking, if you will, we need a full-blown hearing, where we look at the movies," he said.
Mollica also expressed concern that issues around counting and reviewing the number of strikes of the crop could arise in races with even larger profiles and purses than the Forego.
"It's only a matter of time until it happens in the Belmont Derby or the Belmont Stakes, and suddenly nine strikes of the crop becomes ten, and somebody's giving up a $600,000 winner's share."