Key events
Jamie Jackson has filed his match report, so I'll wrap this blog up. Thanks for your company and emails, goodnight.
Erik ten Hag's verdict
I thought our start was really good, our best 10 minutes until now. After the disallowed goal we lost a bit of composure – that isn't necessary, we need to keep going and play our game. There was a good team spirit. Arsenal created chances, of course, but so did we, especially on the break. We scored great goals.

[Were you worried by all Arsenal's possession?] Worried is a big word. I knew our defensive line could deal with that. But they have a lot of creativity and good routines. We could have done things better, but that will come – we have not been together as long as Arsenal have. We have to work to get more control of the game. There's still room for improvement.

It's really good to see that, after the setback [of the equaliser], they fought back. I like that mentality. Arsenal played well but we defended well, and as a team. Our pressing organisation can be better and we can keep them further away from our goal. The same in possession – a little bit more composure and we can dictate the game even more. But as I say, we are not long in this process.

We have all seen what a threat Antony can be. We needed a player on the right – Jadon and Marcus Rashford can play there but they are more comfortable in the centre or on the left. He is the missing link. It was a great goal. All the goals were team goals.
Marcus Rashford's verdict
It was a big test for us today and we showed up. We can be proud of ourselves. It was tough – they're a good team, you know. They know their principles of play and they're very good at it. They're a possession-based team and they offer a lot of difficulties with players dropping into pockets. They're electric when they get going.

I thought it was an even game. We managed to exploit the spaces and that's what made the difference. We've got some excellent passers of the ball and you know that if you keep making runs you'll eventually get a chance. It's been a long time since I scored against Arsenal. It's something I was looking to do this year, and I'm happy I did. It's a great feeling, you do miss it as a player, and I hope I can stay fit and healthy.

Togetherness is the big thing for me from today. You only win these types of games when you're together as a team. It's something to build on and we're looking forward to the next game.
"If Stockley Park watched the Zapruder film enough times," says Tony Rudd, "I'd wager they could finally tell us who shot JFK. Perhaps referees should only be able to see the replays in real time, or limit the number of times they can view them."
Or, better still, they can only watch them at 2x to the sound of Yakety Sax.
It's yet another tale of Old Trafford frustration for Arsenal. Gabriel Martinelli had a goal controversially disallowed at 0-0, and the game looked theirs for the taking when Saka equalised after an hour. Maybe they pushed too hard; maybe Mikel Arteta gambled too early with a triple substitution and change of shape at 2-1. They still played very well, particularly Gabriel Jesus and Granit Xhaka, and they are still top of the league.
That was an excellent game, dominated for long periods by Arsenal. But United were ruthless in transition and scored three excellent goals. The debutant Antony got the first and then, after Bukayo Saka's equaliser, Marcus Rashford scored twice to settle the match.
Christian Eriksen was fantastic in midfield and played a big part in all three goals. United are still miles away from challenging for the title, but four wins out of four is an admirable response to that Brentford fiasco. The team spirit looks excellent, a total contrast to last season.
Full time: Manchester United 3-1 Arsenal
Manchester United win four league games in a row for the first time since April 2021.
90+3 min Fernandes's cutback towards Ronaldo is well blocked by Gabriel. Ronaldo, who is desperate to score, bounces around the six-yard box in frustration.
90+2 min Smith Rowe whips a first-time shot over the bar from the edge of the D.
90+1 min The corner is headed away and United break, but Eriksen's long pass towards Fred is intercepted. Had that cleared the defender on the halfway line, Fred would have been through.
90 min An imaginative pass/cross from Vieira is sliced over his own bar by McTominay. There will be four minutes of added time.
89 min The introduction of Fred, which was planned before the second goal and made after it, has changed this game. Arsenal haven't been able to pass through United with the same ease, and I don't think David de Gea has had a save to make in that time.
89 min "John Murray on Five Live has just informed us all that the only team in England with a perfect record is now Ebbsfleet in one of the very much lower leagues," says Charles Antaki. "Not sure that's much of a consolation to Arsenal."
88 min Saka is booked for wiping out Malacia.
87 min "Did I hear that right?" says Simon McMahon. "Manchester United haven't lost a league game at Old Trafford in which they were ahead at half time since 1984?"
Yep, the Ipswich game that finally finished off their title challenge in 1983-84.
86 min Fabio Vieira slashes a volley over from the edge of the area.
85 min Jesus floats a pass into Nketiah, who chests it past Maguire and then runs into him. No penalty.
84 min "VAR has stolen the headlines again," says Yash Gupta, "but Arsenal are weak in the centre and very easy to play through."
83 min Ramsdale charges from his area to beat Ronaldo to a through ball from Fred. Ronaldo screams in frustration, possibly at the pass from Fred, which was slightly too heavy.
83 min Xhaka's free-kick hits the wall.
82 min Man Utd now have five central midfielders on the pitch, though Eriksen and Fernandes are playing from the wings. It's been a strange game – United have been outclassed for most of it, yet they lead 3-1 and have scored three really good goals.
81 min Maguire is booked for fouling Jesus. He took one for the team there after a mistake by Casemiro.
80 min A change for Arsenal too, with Takehiro Tomiyasu replacing Ben White.
80 min: Double substitution for Man Utd Harry Maguire replaces Lisandro Martinez, who is limping slightly, and Casemiro in on for Marcus Rashford. I think Rashford was feeling him hamstring too. He's had an outstanding game: one assist, two goals and a whole load of flashbacks to February 2016.
77 min Gabriel Jesus has been booked for dissent. There was no debate about that goal – Arsenal were too high, almost on the halfway line, and Eriksen's run was immaculately timed.
Fernandes curled a lovely pass around the defence to release Eriksen, who timed his run perfectly to beat a very high line. Eriksen pitter-pattered into the area, drew Ramsdale and then gave the goal to Rashford. He has an assist now!
GOAL! Man Utd 3-1 Arsenal (Rashford 75)
VAR permitting, Manchester United are 3-1 up!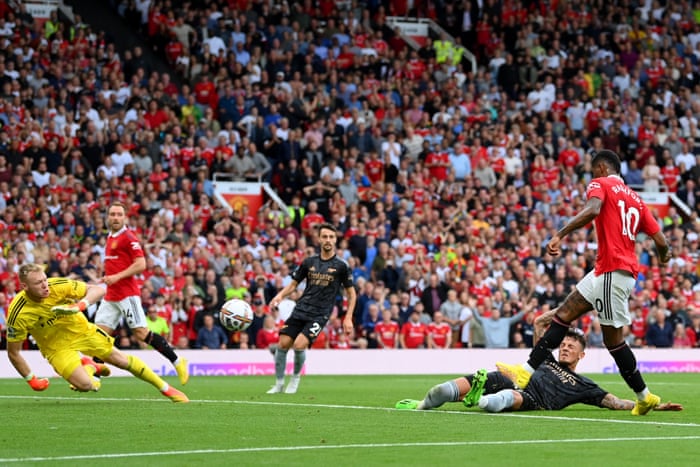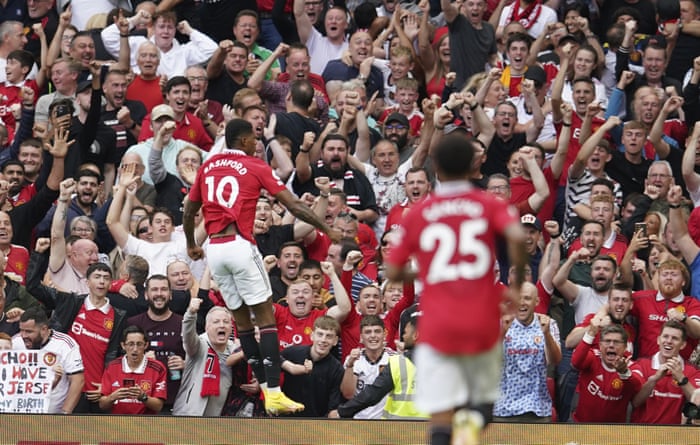 74 min: Triple substitution for Arsenal Emile Smith Rowe, Eddie Nketiah and Fabio Vieira replace Zinchenko, Odegaard and Lokonga.
72 min Here's the goal from Marcus Rashford that has restored United's lead.
71 min Jesus turns on the edge of the area and floats a curling shot just wide of the far post. He's had a fantastic game.
71 min McTominay is booked for a wrestling manoeuvre on Gabriel Jesus.
70 min A note on the equaliser – Odegaard's quick feet to create the angle for the pass are delightful.
69 min: Fine save by Ramsdale! He redeemed his own error, a dodgy pass out of defence that was intercepted by Fred. The ball ran to Fernandes, whose attempted chip was pawed away brilliantly by the outrushing Ramsdale.
68 min The book says Christian Eriksen has no assists today, but he was the guy behind the guy on both United goals.
67 min: Man Utd substitution Another change for United – but there's still no sign of Casemiro. Fred has replaced the subdued Jadon Sancho.
United sliced Arsenal open on the break. Eriksen played a quick first-time pass into Fernandes, who stabbed a marvellous ball around Saliba to put Rashford through on goal. He moved to the edge of the area and hit a low shot that deflected off the sliding White and bounced over Ramsdale.
GOAL! Man Utd 2-1 Arsenal (Rashford 66)
Would you believe it.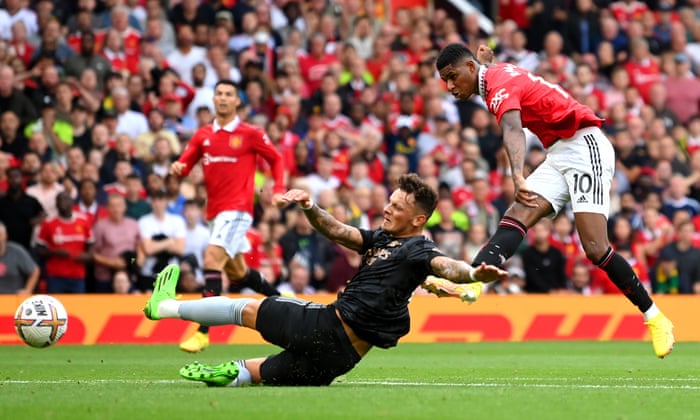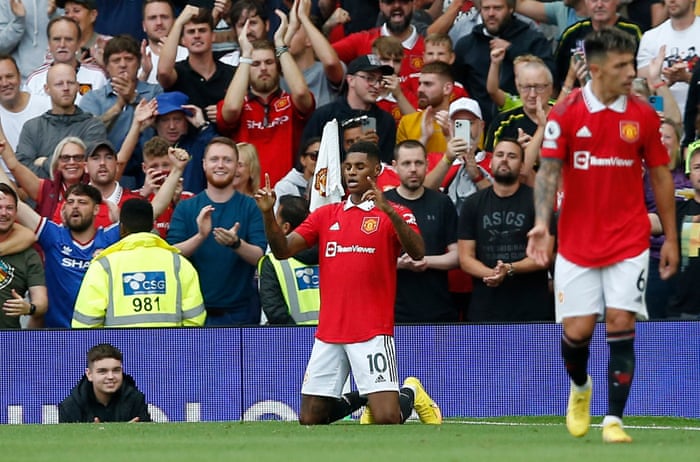 65 min Here's that equaliser from Bukayo Saka.
63 min The equaliser hasn't changed the game one iota – Arsenal are totally dominant, and Martinelli has just scampered away from Dalot to win a corner.
They've been the better team almost throughout, and now they've level. It came from a poor pass by Varane that was intercepted in midfield. Odegaard made room for a superb through pass towards Jesus in the area. He was challenged desperately by Dalot, but the ball ran loose for Saka to score from 12 yards.
GOAL! Man Utd 1-1 Arsenal (Saka 60)
Bukayo Saka gets a deserved equaliser for Arsenal!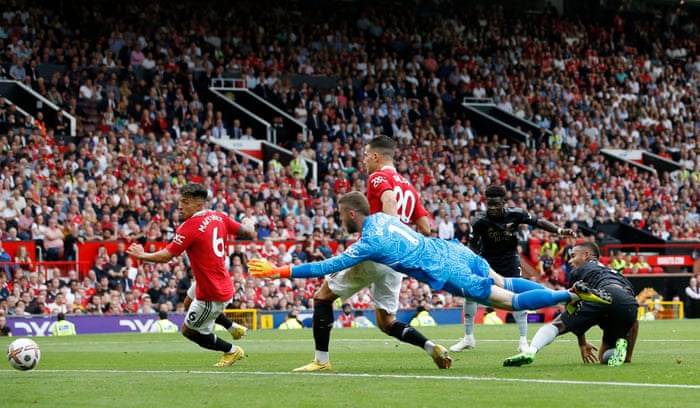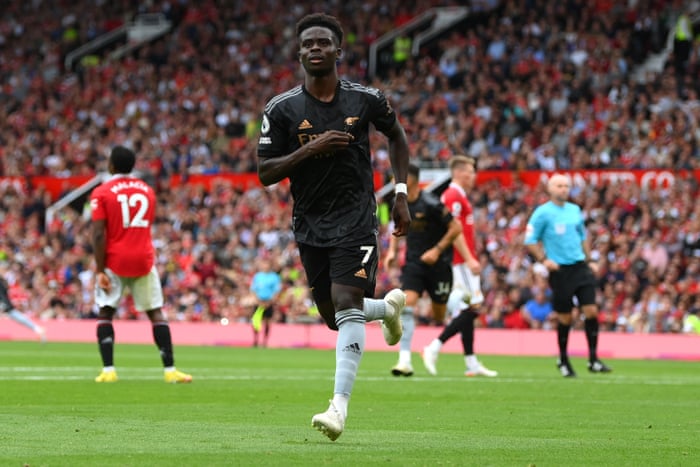 59 min Saka plays a very imaginative pass that just evades the underlapping White in the area.
58 min: United substitution The goalscorer Antony is replaced by … Cristiano Ronaldo. Crikey, that's interesting. Rashford will move to the left and Sancho to the right.
56 min The only question is who Casemiro replaces, because United need him on urgently. Usually it's Anthony Elanga but he's not in the team today. It could be any of the attacking-midfield three – Sancho and Fernandes have been quiet, and Antony might not be able to do a full 90 minutes.
55 min After a lovely passing move from Arsenal, Saka's chipped cross from the byline bounces off the top of the crossbar!
55 min "Paul Tierney – he's one of our own," sing the United fans. They haven't forgotten the Jimmy Murphy Young Player of the Year 2001-02.
54 min "I think people are missing the point; VAR is only meant to get involved if it was a clear and obvious error," says Mike Talc. "Paul Tierney clearly saw the action and did not consider it a foul. So was it a 'clear and obvious' clearly not from all the reactions."
Yes, this has been lost along the way, and I'm not sure why. The original principle was to eradicate howlers, wasn't it?
52 min: Double chance for Arsenal and a penalty appeal! Jesus's precise cutback is sliced across goal by Odegaard, an excellent opportunity, and then Saka blasts a right-footed cross shot just wide of the far post before being flattened by Malacia. Gabriel Jesus is having a stormer.
50 min United have barely crossed the halfway line in the second half. Even at 1-0 down, Arsenal are playing with a lovely relaxed confidence. If they recover to win this game they will feel, for want of a better word, invincible.
48 min Jesus twists Fernandes inside out on the edge of the area but then tries one swerve too many and is tackled by Varane. Arsenal have started the second half well.
47 min Zinchenko moseys infield and has far too much time to find Xhaka on the left side of the area. His low cross is cleared at the far post, I think by Malacia.
46 min Peep peep! No changes on either side yet.
"Have to disagree Rob," says Francis Mead. "For me it's been a tremendously absorbing, combative game of football – VAR played a small role and rightly ruled it a foul. But it's simply a great game."
Point taken, though I'm not sure it's a great game. This is a great game.
The Sky Sports panel's verdict on Martinelli's disallowed goal
Roy Keane "Soft"
Paul Merson "Very lucky"
Jimmy-Floyd Hasselbaink "Ridiculous"
Half-time reading