Key events:
That will be all for today. The cobbles certainly delivered extra nervousness in the peloton and extra excitement for Tour de France fans everywhere – although the most significant moments of the race occurred off the cobbled sectors.
The apparently fearless Tadej Pogacar has taken a stranglehold on the general classification following another exceptional performance, in which he rode more like a Classics strong-man than a grand tour GC hopeful. Simon Clarke, meanwhile, produced a stunning stage win with a combination of sheer hard work in the breakaway and a bit of tactical cunning in the "final".
Daniel Harris has tennis action from Wimbledon for you, right here. Bye for now.
Sounds … painful?
Or did he? (Put his own shoulder back in, that is.)
Read Jeremy Whittle's stage five report from Arenberg:
Luke Rowe speaks to ITV: "It was a chaotic day … I think for us, maybe we exposed ourselves a little bit early … It was just crash after crash after crash … we were in a sticky situation at one point and by the sounds of it, we owe Wout van Aert a beer.
"A lot of the winning moves in these [cobbled] races happen on the tarmac, on the asphalt. You talk about the cobbles and it's just a fight for position to go into them. Once you're there it's hard to move up and you don't lose too much ground either … it's fighting for pinch points going into the front of the peloton towards them sections."
It's being reported that Roglic has dislocated his shoulder. What a terrible day it's been for Jumbo-Visma.
A couple of interesting points being raised in the discussions on Eurosport: One, Jumbo-Visma's issues highlighted the problem of having two GC leaders, as they didn't seem sure what to do or who to help when problems arrived.
Secondly, they are questioning why Bettiol was pulling on the front of the peloton on the cobbles when there were two EF-Education Easypost riders in the breakway.
Top 10 GC after stage five
1) Wout Van Aert (Jumbo-Visma): 16 hr 17' 22"
2) Neilson Powless (EF Education-Easypost) +13"
3) Edvald Boasson Hagen (TotalEnergies) +14"
4) Tadej Pogacar (UAE Team Emirates) +19"
5) Yves Lampaert (Quick-Step Alpha Vinyl) +25"
6) Pedersen (Trek-Segafredo) +36"
7) Jonas Vingegaard (Jumbo-Visma)
8) Adam Yates (Ineos) +48"
9) Pidcock (Ineos) +49"
10) Thomas (Ineos) +50"
Van der Hoorn, beaten by an inch or so, has a chat with Bernie Eisel on Eurosport, who asks how he is feeling: "Shit. Really shit. So close. I almost won a Tour stage. Yeah, disappointment.
"I had this plan to go in the break here, I did a full recon, also at the start, I knew there was a narrowing after 1km … we had a high speed constantly all day. The bunch was more busy with getting their main guys in the front, then chasing back the break … I knew there was a chance today and we did really good teamwork with the guys in front. Maybe Simon was faster, I just made small mistakes, and then it's gone."
He looks devastated and you can understand why. No doubt he will have more chances in this race, but perhaps nothing quite that good.
Today's winner, Simon Clarke, speaks: "After the winter when I had when I had no team, to have Israel-Premier Tech ring me up, to give me that chance … it gives you a reality check to make the most of every opportunity [when you don't have a contract].
"You've seen in every race [this season], I've come out swinging, and trying to make the most of every opportunity. The stages I've won in the Vuelta were all in the first week, in these first stages, so I thought, maybe today's the day.
"I still can't believe I got it on the line there … I was cramping in both legs. I lined up the biggest [bike] throw I could possibly do, and hoped it was enough. Honestly, I need to watch the replay, I still don't quite believe it.
"I moved to Europe when I was 16, and I'm 36 on the second rest day, so it's been 20 years, and today a dream came true."
He describes his thinking in the final kilometre: "Even when Powless attacking, you've got to sit back, and pray the other guys panic before you do. I gave Edvald a bit of space, to let him get the jump on me, and he took the bait, and I really had to chase him hard …
"Hello to everyone in Australia – thanks for all the support – and I hope I did you proud tonight."
Brilliant stuff and interesting insight on how he raced the final kilometre, too. Clarke has also won two Vuelta stages, the mountains classification at the Vuelta, and a TTT stage at both the Tour and the Giro. That will surely be the most special win of them all?
Has Pogacar got this wrapped up, barring mishaps?
That was some ride by all the six men in the initial breakaway. And for Simon Clarke, who was without a contract a few months ago, it's a quite amazing achievement. The drama of the final kilometre was hard to beat, when it looked like Powless has it sewn up, before Boasson Hagen looked odds on to win … Van der Hoorn was then in the box seat but Clarke managed to stay on his wheel, and now he has his first stage win at the Tour de France! Superb.
Stage five, top three:
Simon Clarke (Israel-Premier Tech) 3hr 13' 15"
Taco van der Hoorn (Intermarché–Wanty–Gobert Matériaux) +0"
Neilson Powless (EF Education-Easypost) +2sec
Simon Clarke (Israel–Premier Tech) wins stage five!
Insane finish. Powless goes early, with a dash for the finish from 1km to go. He is overhauled by Boasson Hagen with around 400m remaining, who in turn fades before the line. Van der Hoorn and Clarke come past the Norwegian, and Van der Hoorn looks to have won it, but Clarke just pips him on the line after managing to draft behind him.
The 35-year-old veteran throws his bike for the line and he wins it by a couple of inches! The result is confirmed in a photo finish. Amazing.
1km to go: Powless attacks early! No one follows! He looks like it may have this in the bag!
1.5km to go: Jack Haig (Bahrain Victorious) was one of today's casualties.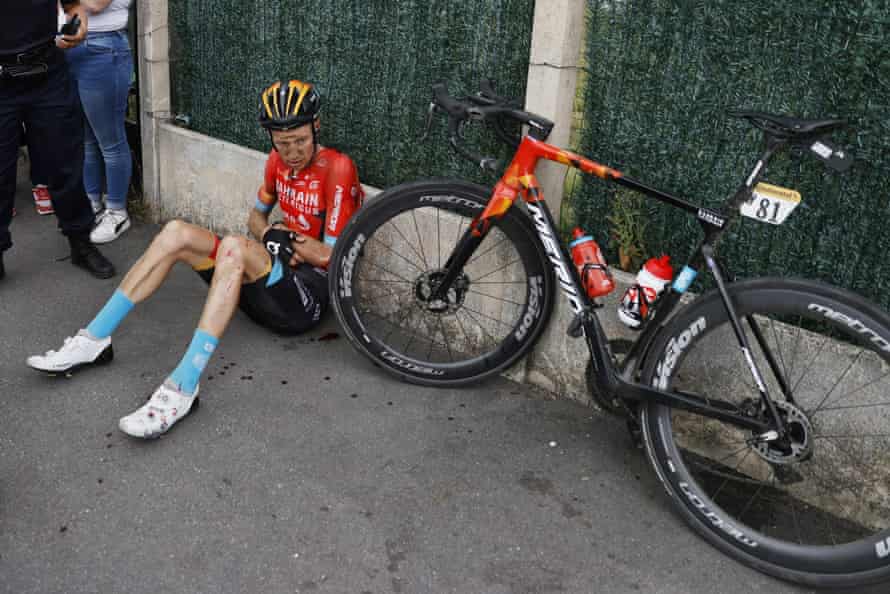 4km to go: Magnus Cort is dropped on the final cobbled sector! I think Gougeard has dropped out of the lead group, too, which leaves Powless, Boasson Hagen, Van der Hoorn and Clarke. Four riders who are going to fight it out for the stage win.
6km to go: It's tricky to work out exactly who is where with all the different groups on the road … but the headline is that Pogacar is set to take an iron grip on the GC battle, a bit like Nibali in 2014. He has not been afraid to take a few risks and it looks like it's going to pay off.
9km to go: I think the six riders up front are going to make it. The last thing they want is a cyclist with a sprint like Stuyven coming back. So they are working doubly hard to give themselves a chance of a stage win.
As for the GC, well, it's fair to say that the race organiser's wish to inject into excitement into the first week has been granted.
Roglic, I should point out, appears to be on his own and three minutes down, according to the letour.fr website.
10km to go: There are at least six different groups on the road. This is all over the place. The breakaway's lead has increased again, to around 46".
12km remaining: Is Primoz Roglic's GC race over already? Hard to see him making up three minutes or so on Pogacar. And he made end up losing more than that.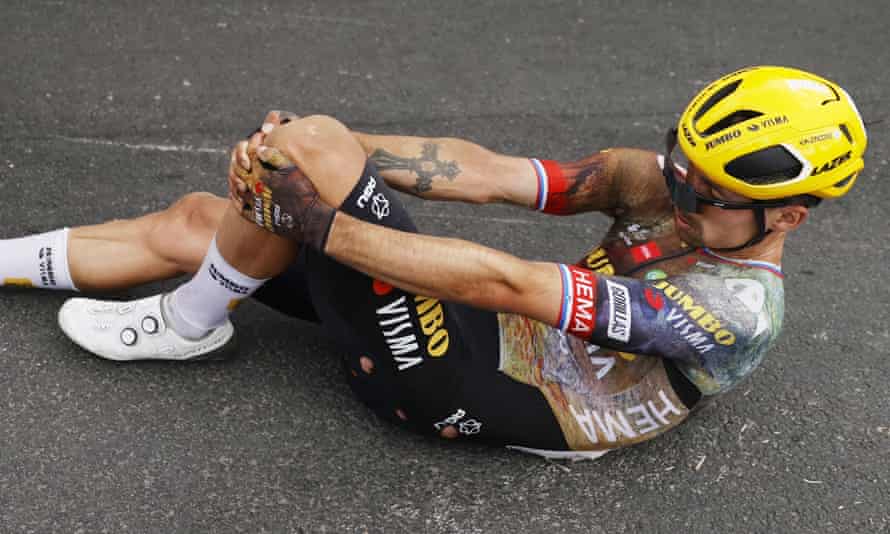 15km to go: Cort powers on at the front. "Pogacar is really putting his authority on this race," observes Sean Kelly. The Jumbo-Visma riders are pictured working together and trying to get Roglic back in touch with the main group.
16km to go: A Lotto Soudal rider loses it on a corner and veers into the crowd. Roglic is standing to lose nearly three minutes to Pogacar at the moment, if it stays the same.
18km to go: Brandon McNulty (UAE Team Emirates) veers off to the side of a cobbled lane just before a right-hand bend. He stays upright … Meanwhile Stuyven and Pogacar have now joining forces to and pull back the escape group. If Stuyven is there at the end in a sprint finish between a small group, he'd have to fancy his chances.
20km to go: Pogacar, who looks fearsomely strong as usual, is now taking it up for the chasing group. He seems to be without teammates but that never bothers him. He is driving the pace because he sees a chance to put some time into his GC rivals.
However, the six-man break are not hanging around, they are working exceptionally well together and holding the gap at just over a minute.
22km to go: There are now three cobbled sectors remaining for the breakaway riders: Tilloy-lez-Marchiennes à Sars-et-Rosières, Bousignies à Millonfosse and the d'Hasnon à Wallers.
As it stands, Pogacar may be going into the yellow jersey. It's been a terrible day for Jumbo-Visma if it stays like this, as they will lose the jersey and their GC guys will lose time, too.
25km to go: The breakaway riders aren't giving up on this. They are riding "through and off", taking turns to lead the way and trying to work together as effectively as possible to try and make it to the finish.
27km to go: Bettiol is chasing on the front of the peloton for EF Education-Easypost … despite the fact that they have two riders in the break. That's a bit of an odd one. Anyway, the gap between the front group and the six-rider break has fallen, very quickly, to 58".
Big crash for Caleb Ewan … and Roglic in there
30km to go: The breakaway still has 1'45" to play with. Caleb Ewan (Lotto Soudal) crashes while in the main bunch! I think another couple of riders went down, too. There was a piece of a barrier that had gone into the road which is what caused the crash. It was difficult to see but the commentators reckoned Primoz Roglic went down, too …
33km to go: Nils Pollitt (Bora–Hansgrohe), the German national champion and an absolute powerhouse, is pictured riding on the front of the main bunch. Pogacar, who seems to be lacking support from his teammates, is calmly riding along behind him.
Van Aert drops back to his team car. He is out of contention for the stage win today, that's for sure.
35km to go: A big problem for Jonas Vingegaard, who I think had a mechanical … it looks like he initially grabbed a bike off a teammate which was too big for him. He then nabbed Kruijswijk's bike, but almost immediately dropped it when he saw a team car coming up behind.
"That is a panic situation," says Sean Kelly.
38km to go: Van de Poel is dropped by the main bunch! He said this morning he wasn't feeling great, although he is not ill, either. Anyway, this seems to be another day when he's got empty legs. Being a Classics specialist, he was high on the list for many people for a winner today.
Anyway, the gap between peloton and break is now 2'07 … and as I type it falls to 2'00". Are those six riders up front running out of steam a little?
39km to go: According to letour.fr, Pidcock of Team Ineos is in the dropped group of riders with O'Connor. According to Eurosport just then, he's in the main bunch. I don't know where he is, at this stage.
40km to go: "Little cobbles story for you," emails Aodhan Toland. "Pedalled out of Arras after watching the start of the 2018 stage to Roubaix. Realised I was in danger of missing the race so put the foot down at the cobbles, when my frame snapped. Hammered on regardless and eventually reached a race sector with everyone starting to pack up…I'd just missed the race. Then a cry of "Clear the road!" went up and two stragglers came through miles off the back. Still counts!"
A classic Tour de France spectating story … fair play for successfully riding a snapped frame!
41km to go: Ben O'Connor (AG2R Citroën) is among the group of dropped riders: Tom Pidcock, Bauke Mollema, Jack Haig, Mikael Cherel, Franck Bonnamour, Giulio Ciccone, Luke Rowe and Guy Niv are the others.
45km to go: The breakaway is on the fourth sector at d'Auberchicourt à Émerchicourt. In terms of negotiating these cobbled sectors safely, all is well for the GC teams so far, and indeed those teams merely targeting a stage win today.
Some riders choose to take the outside lines on the cobbles, some are choosing to stay in the middle … it's dusty but I think the riders would rather that than rain.
47km to go: One key difference between today and the actual Paris-Roubaix, of course, is that the race doesn't finish on the famous velodrome.
Meanwhile, Florian Sénéchal (Quick-Step Alpha Vinyl) has a puncture, and it appears that Luke Rowe (Team Ineos) has a problem of some sort, too.
48km to go: As the bunch hits the latest sector of cobbles, riders are forced up on to the grassy banks on each side, such is the narrowing of the road in comparison to the normal roads they generally race on. It's a warm, dry day and dust is being kicked up by all the tyres and all the vehicles on the road.
50km to go: According to Rob Hatch on Eurosport, Chris Froome and Peter Sagan have both been dropped. That came via race radio.
51km to go: The pace is still very, very hot. The main bunch all negotiated the second cobbled sector without any apparent problems. The break hits the third cobbled sector, at Wasnes-au-Bac à Marcq-en-Ostrevent, which has a difficulty rating of three stars.
53km to go: Asgreen takes it up for Quick-Step Alpha Vinyl on the cobbles, splitting off the front of the bunch with a teammate.
54km to go: EF Education Easypost must have started dreaming about the yellow jersey to go with Magnus Cort's polka-dots, given this current situation. I fancy it's going to be quite hard for the peloton to reduce this gap.
56km to go: The peloton is fanned out across the road behind the break – which has an advantage of 3'26" at the moment … and the breakaway hits the second sector of cobbles! The entry to the sector is downhill. That's potentially going to be a bit spicy in three minutes or so when the bunch gets there … and the road narrows hugely as the cobbles start.
62km to go: Sector 10 (counting down to 1) is d'Eswars à Paillencourt. The riders will be hitting it shortly.
64km to go: To recap, the riders in the break are:
Neilson Powless and Magnus Cort (EF Education–EasyPost)
Simon Clarke (Israel-Premier Tech)
Alexis Gougeard (B&B Hotels – KTM)
Taco van der Hoorn (Intermarché–Wanty–Gobert)
Edvald Boasson Hagen (TotalEnergies)
Powless is the best-placed in GC, over a minute down, and as a result he is the virtual leader of the Tour de France at the moment.
65km to go: Following that first cobbled sector there is a long stretch of tarmac road before they hit the second sector. The average speed for today is still hovering over 50kmm/h. Robbie McEwen, on commentary for Eurosport, fancies the break has a good chance of making it now, with a gap of 3'20" and 65km to race. We'll see.
70km to go: A photo here of the moment that Van Aert was very nearly taken out by a DSM team car:
74km to go: Cobbles! The first of 11 sectors is Fressain à Villers-au-Tertre. Alberto Bettiol (EF Education Easypost) is riding on the front. A few moments ago Sagan (TotalEnergies) and Vegard Stake Laengen (UAE Team Emirates) had a crash on a corner, just before the cobbles began, but I think they are OK. All the riders appear to have negotiated the first cobbled sector safely …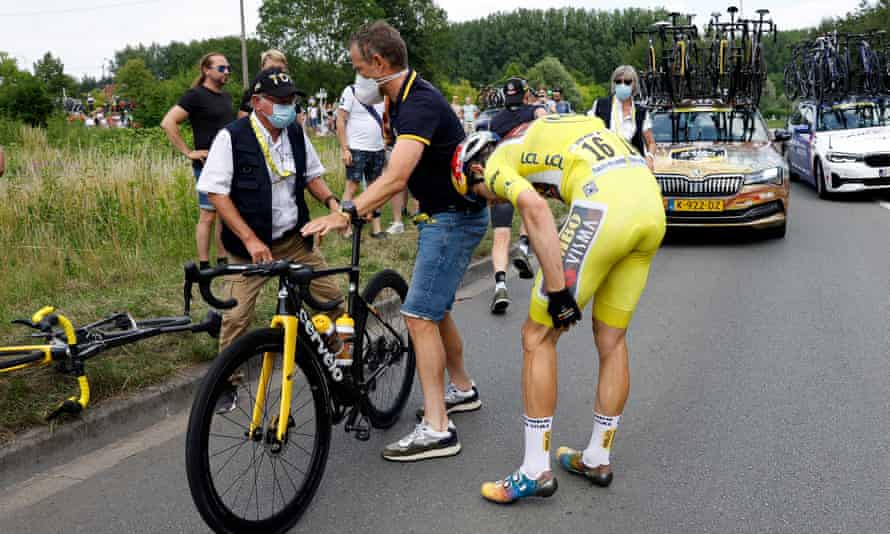 77 km to go: "Re: your request for cobbles anecdotes," emails Josh Bax. "I was roadside for the Roubaix stage in 2018 on Mons-en-Pévèle, one of the five-star sectors. My overwhelming memory is the heat and the dust that kicked up. The air was thick with dust as everything went past – the riders must struggle with it all in their lungs!
"And I think there were four or five helicopters overhead … That day will always stay with me – such a pressure cooker and harsh environment. Picture attached of Matthew Hayman during that stage."
Thanks for getting in touch, Josh.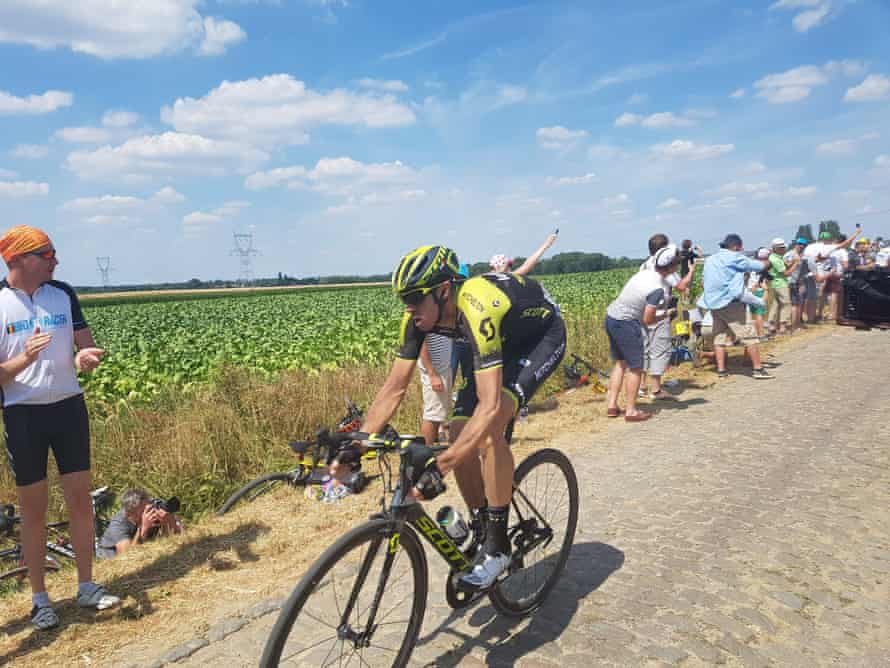 80km to go: Action stations at the front of the peloton. The gap to the break is up to 4'00" as the six riders up front push on … and behind them, in the main bunch, the riders are all over the road as the pace and the nervousness picks up. The cobbles are approaching.
88km to go: Up front, the gap between the six-man break and the peloton is 3'36". Van Aert is nearly back with the main group, he's only about 10" behind them now.
91km to go: I didn't see it on the TV but on Eurosport, Daniel Lloyd says the race commissaires have made it clear to Van Aert and Kruijswijk that they not allowed to use their team car to draft back on to the main bunch … and the next moment, Van Aert is riding right behind a Team DSM car … the car driver touches his brakes, and Van Aert nearly collides with the vehicle, but manages to twist his body and bike away from it, and edges past it by a couple of inches! That was a close one …
95km to go: Wout van Aert, the overall race leader, crashes! He is back on his bike and he looks OK for now. He gets a new bike and is riding back to get in touch with the peloton. It was on a long right-hander exiting a roundabout – from the replays it looked like riders in front of him touched their brakes and Van Aert had nowhere to go.
He has 55" to make up in order to get back to the main peloton. He is with Steven Kruijswijk, who also appeared to go down in that crash. That is not the kind of incident you need if you're trying to protect the yellow jersey and maybe win a second consecutive stage.
96km to go: Tadej Pogacar had a chat with Bernie Eisel of Eurosport before the stage: "The stress before the cobbles is a bit worrying but I have a good shape, and I think if there is no back luck, it should all be going well. You need to ride a good position, you need to ride the cobbles pretty good, you need to find the best line … but even on the [normal] road you can get a puncture from a small rock.
"I think it's a pretty tough challenge [to get the yellow jersey today] … There's going to be a race today, and I'm going to participate in it, and I'll give it my best."
Spot the gendarmerie.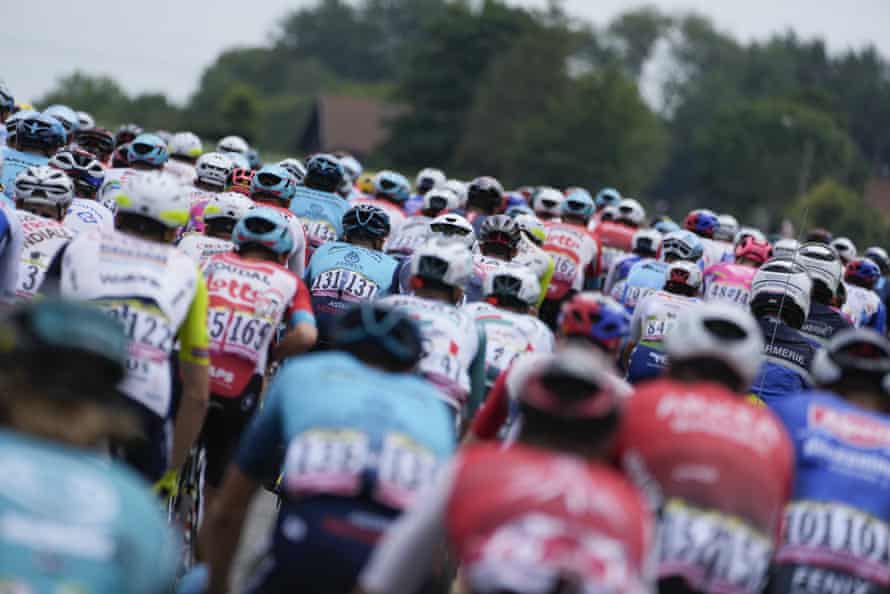 103km to go: My personal experience of riding cobbles was on the Tour of Flanders sportive in 2019. I found the fast, flat cobbled sections very uncomfortable, while the iconic climbs along the route were fine by comparison. It takes a certain technique to ride quickly and smoothly over flat cobbled sections, and it's definitely not one that I've developed. Thankfully the pros will be taking care of it today.
Email me your cobbles-riding anecdotes, why don't you?
106km to go: The fastest estimated time schedule on the official Tour de France site is calculated at a 47km/h average speed. The current actual average speed is 51.7km/h. It's safe to assume the cobbles will take the edge of that pace to a certain extent, however.