And there we go! Ostapenkz opens up the court with a big forehand to almost underarm another into the backhand corner, and that's the first set, 7-5! She's looking very good out there.
Des Lynam in the house! It's not clear if, below his jacket, he's in jeans. Anyway, back to the actual tennis: Ostapenko and Maria are at deuce, the former serving at 5-6 to stay in set one, while Tiafoe has just served as ace down the middle to save break point.
If I live to a hundred, please find alternative entertainment for my celebration.
Oh my absolute complete and utter days! Cliff Richard is now on Centre in purple and green stripy blazer, singing Summer Holiday a cappella. It's every bit as affirming as you think it is; this country.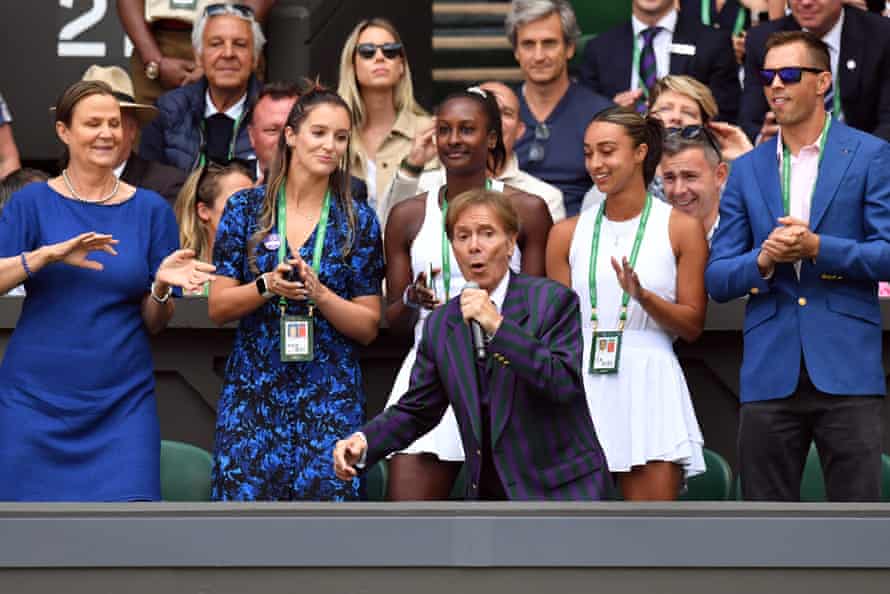 Goffin fights through a hold for 4-4, but is feeling Tiafoe's breath on his neck; Ostapenko now leads Maria 6-5.
We're not yet away on Centre because there's some kind of celebration for the Centre Court centenary. On behalf of all at the GBG, mazal tov to the hallowed turf.
Meantime, on Court 2, Tiafoe leads Goffin 4-3 on serve, but is clearly the better player. However both players will know that Goffin's solidity will be enough if he can't maintain his currently level.
Ostapenko is upping the pressure here. Maria holds for 4-4 but to 30, and she'll know she's second-best here. But she'll also know her opponent can surrender her serve at any point in a blur of gargantuan groundstrokes that miss the lines by fibres.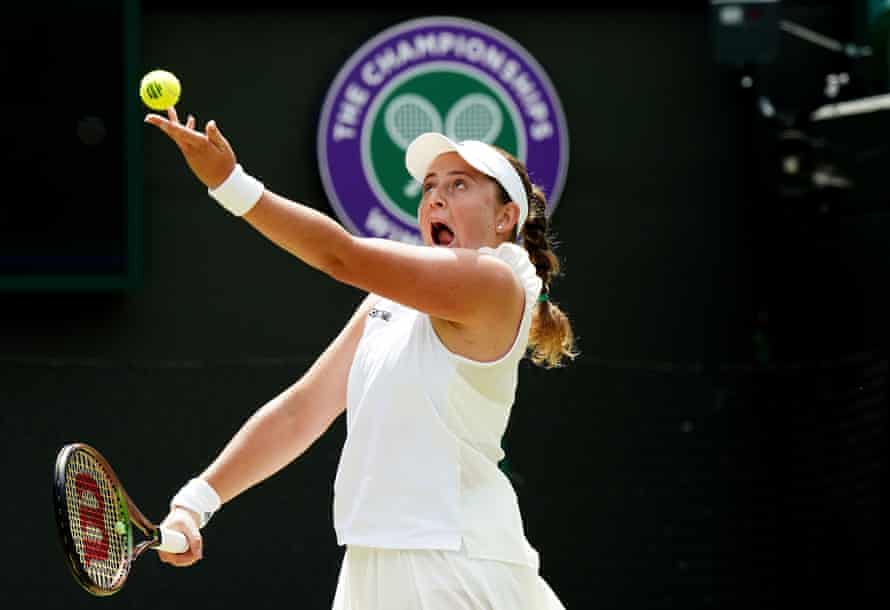 You could see in her last service game that Ostapenko – the tennising equivalent of cricket's Baz ball – was getting her eye in, and she's just broken back to 15. If she wins here, she meets the winner of Watson v Niemeier, which you'd take for a quarter. Those two get under way in four minutes or so.
Oh I say! I remember a tennis-coach mate of mine seeing Tiafoe for the first time and excitedly messaging to say he'd seen one of the most phenomenal athletes he'd ever seen play the game – he later said similar about Felix Auger-Aliassime. Anyhow, he – not my mate – has just slipped chasing down a drop, steadied, chased the ball to the sideline, flipped a winner over the net, broken back, run off the court, and shaken hands with various members of the crowd to underline his brilliance. 2-2!
Classic Ostapenkz, broken immediately by the world 103 seeking to hit lines. I'm not sure there's another player with a wider between their best and their worst. Maria leads 2-1.
On No1 Court, Tatiana Maria has held in the first game against Ostapenkz, while on 2, David Goffin broke Tiafoe at the first time of asking and leads 2-1.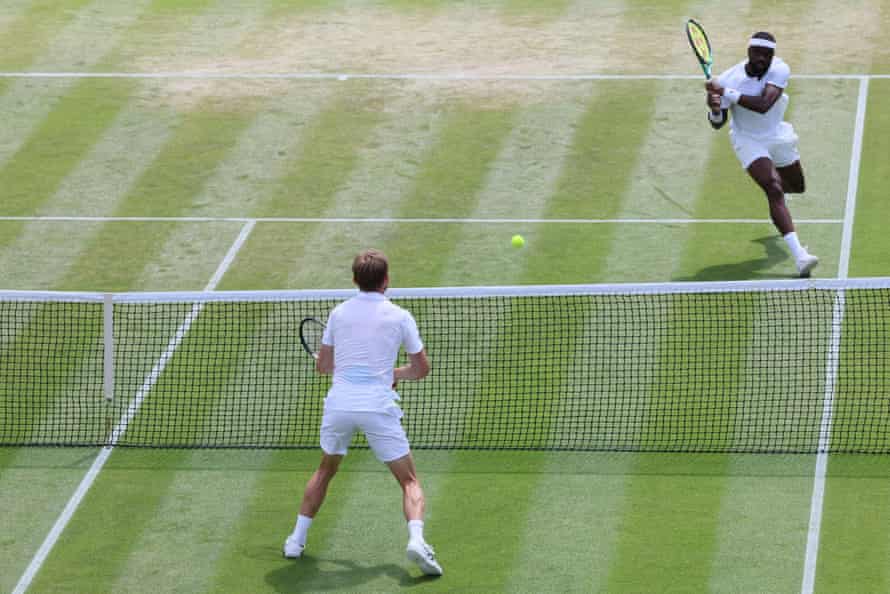 Thanks Alex and hi everyone. I'm going to level with youse: I thought I might be on here grousing about the demise of Manic Monday, but various of my favourites are playing today – Jelena Ostapenko, Francis Tiafoe and Ons Jabeur – on top of which, we're getting Jannik Sinner v Carlos Alcaraz, which is a potentially rrrridiculous clash of brilliance and personalities. On we go!
And that's all from me – I'll leave you in the capable hands of Daniel Harris as David Goffin and Frances Tiafoe lock horns on court 2.
Some more coverage from yesterday: Rafa Nadal steams into the fourth round with a win over Lorenzo Sonego:
A gem from our archive – Clive James at Wimbledon. Enjoy:
Marie Bouzkova beats Caroline Garcia 7-5, 6-2
Bouzkova 7-5, 6-2 Garcia
The decisive game starts cagily, a point each, but then another dire mistake from Garcia arrives when she advances assertively only to thump a volley right into the net from point-blank range. Bouzkova cleans up the next serve to earn match point, and her final serve is met by a return from Garcia that fizzes low, hard … and straight into the middle of the net. Game set and match Bouzkova!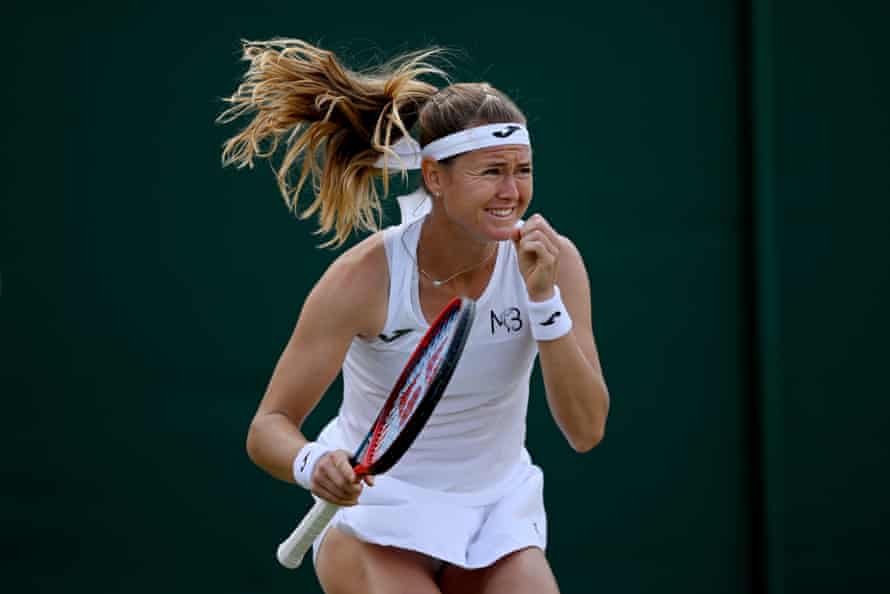 *Bouzkova 7-5, 5-2 Garcia
Bouzkova breaks again! After retaining her service game with ease, the Czech spends the next game turning defence into attack, reading her opponent perfectly point after point. Eventually, at break point, Garcia wildly misplaces a simple volley at the net, blamming it well wide. Bouzkova serves for a place in her first grand slam quarter-final.
*Bouzkova 7-5, 3-2 Garcia
Both players hold a service game each with little fuss. But Bouzkova suddenly ups her game as Garcia resumes her serve, pulling out a perfect pass down the line to give herself break point, which she wraps up with a powerful volley. That feels like a vital moment. The quarter finals are in her sights now.
Bouzkova 7-5, 1-1 Garcia*
No breaks yet in the second but Bouzkova turns on the style during a couple of knife-edge rallies, the latter ending when Garcia's delicate drop shot falls the wrong side of the net.
*Bouzkova 7-5 Garcia
Bouzkova draws Garcia to the net and lifts an impudent lob over her opponent – fantastic stuff – to go 40-15 ahead. Garcia fights back with a powerful backhand return at the next point but seconds later she sends a simple enough shot some way long. First set Bouzkova, who allows herself a silent fist-pump.
*Bouzkova 6-5 Garcia
Garcia wobbles badly in her service game. Bouzkova makes a rare inroad to the net to perfectly execute a tricky volley, then comes up trumps in a long rally to go 40-0 up. Garcia saves the first break point with a dismissive cross-court forehand, the second with a nicely placed return, and the third by sending her opponent from side to side at the baseline before swiping a vicious shot into the corner. But Bouzkova wins the next point and a double fault from Garcia gifts her the game – all that battling for nothing. Bouzkova serves for the set.
*Bouzkova 5-4 Garcia
Blam: in the blink of an eye, Garcia has won her next service game to love and is marching off court with her game face firmly affixed. The Czech now serves to stay in the set.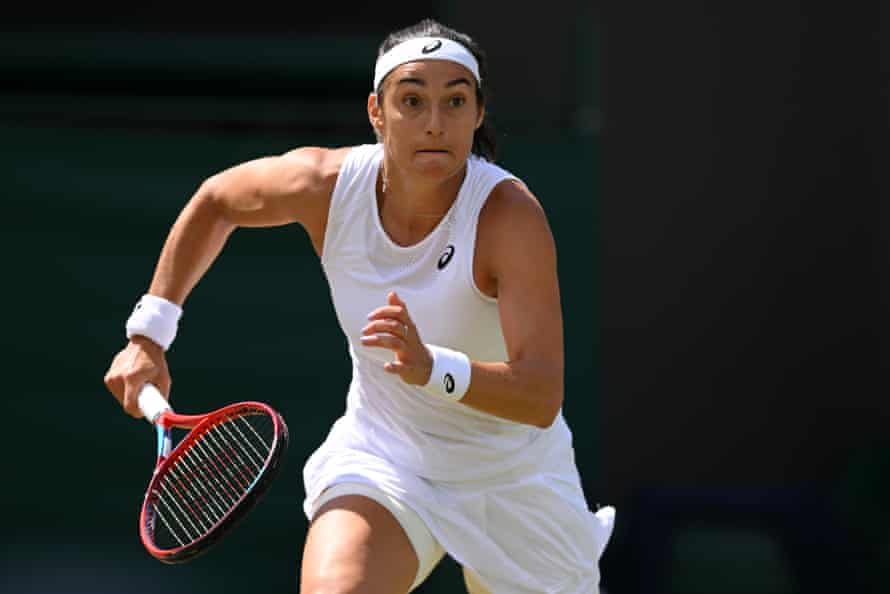 Bouzkova 4-4 Garcia*
Garcia breaks back! She picks out the postage stamp (if that's possible in tennis) with a perfect return to a very strong serve, wrongfooting Bouzkova and drawing level in a match she looks to be growing into.
Yesterday's Wimbledon Diary, featuring childcare, rodents and a very long Sock:
*Bouzkova 4-3 Garcia
More like it from Garcia, who claims the next service game convincingly, first by dispatching an ace of brute force, then by standing back and then watching as a frazzled Bouzkova sends a long pass over the line.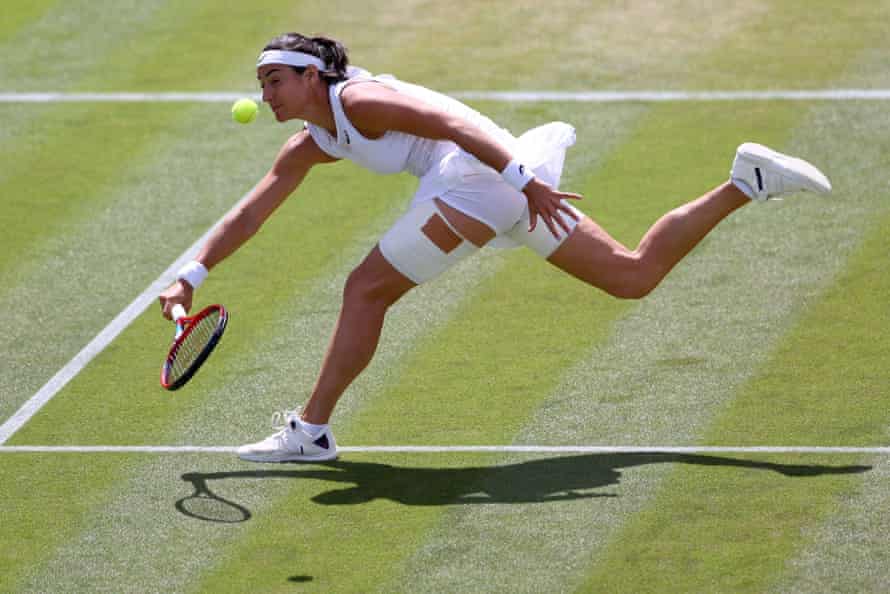 Garcia has held both her service games since being broken early on, but can't make a dent in Bouzkova's serve: the Czech sends her opponent dashing back and forth along the baseline like a puppeteer, Garcia eventually running out of steam with a flimsy backhand. 4-2
More from yesterday: Katie Boutler gets a tanning
Meanwhile, Bouzkova goes 3-1 up with a fierce backhand that skitters across the baseline before Garcia can get near it.
Bouzkova goes two games up after a splendid cross-court pass is followed by another understrength return from Garcia – whose best showing at Wimbledon was making it to the fourth round five years ago, where she lost out narrowly to Joanna Konta.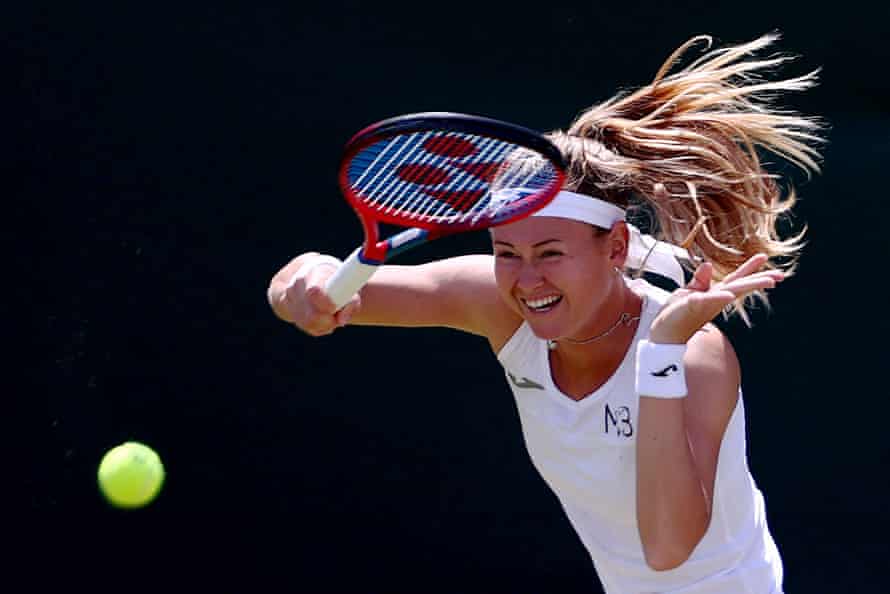 More fun from yesterday: Amanda Anisimova drinks in the glory after a career-high win against Coco Gauff on Centre Court
Marie Bouzkova breaks in the opening game against Caroline Garcia, who wafts a badly underhit volley straight into the net before sloping off to the sideline to wake herself up.
… and our later report from the face-off between Kyrgios and Stefanos Tsitsipas: an ill-tempered game and Grade-A entertainment, after which Tsitsipas called his triumphant opponent an "evil bully".
Gear up for the day's action with some essential reading from yesterday. First up, the Guardian's in-house clairvoyant Barney Ronay on Nick Kyrgios's perfectly pitched pantomime villainy:
Things are different at Wimbledon this year, with a full day's play scheduled for the usually vacant Middle Sunday. Play starts on the outside courts any minute now, with the action on Centre and No 1 court from 1.30pm (BST). Here's the order of play:
Centre Court
Heather Watson v Jule Niemeier
(10) Jannik Sinner v Carlos Alcaraz (5)
(1) Novak Djokovic v Tim van Rijthoven
No 1 Court
Tatjana Maria v Jelena Ostapenko (12)
(9) Cameron Norrie v Tommy Paul (30)
(24) Elise Mertens v Ons Jabeur (3)
No 2 Court
Marie Bouzkova v Caroline Garcia
David Goffin v Frances Tiafoe (23)
J Murray/V Williams v J O'Mara/A Barnett