Key events:
Halep saves two…
Oh really?! Halep races into the net and dumps a backhand volley into it, then a pair of terrific groundstrokes from Anisimova, backhand to one corner then forehand into the space, give her three break-back points!
On No1, it's not currently close, Rybakina serving to well for Tomljanovic. Another hold gives her 4-1, and this is nearly over.
Anisimova is into this now, and though this improvement may be too late, bringing with it a whole new suite of regrets, she's reminding herself that she can compete at this level. Consecutive backhands from the back give her 30-0, she holds to 15, and Halep will have to serve for the semis a second time.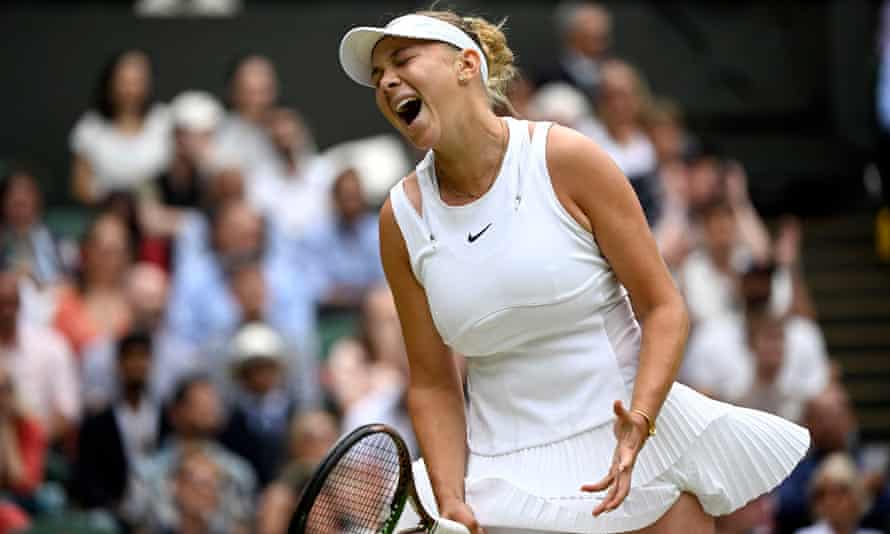 Tomljanovic is nearly out when she nets a backhand, handing Rybakina 30-40, but hangs in there to stop the rot, winning her first game in eight. She trails 1-3 in the decider.
…and though Halep snaffles back two of her break points, she then nets a backhand and there's life in this match yet! Halep leads 6-2 5-3.
Go on Amanda! With Halep serving for the match, she races to 0-40…
Well done Amanda Anisimova. She fights through a hold for 2-6 2-5, closing eyes at change of ends to try and centre; good luck with that, old mate. Meantime, Rybakina holds easily, her power dominant. But she's only a break in front, so Tomljanovic still has plenty for which to play.
Halep holds to love for 5-1 and Anisimova just wants out of there now, the points short and depressing. She's so much better than this, though, and will have better days even if that's no current consolation.
Rybakina is all over Tomljanovic now, quickly making 0-40, and though one break point is saved, a forehand into the net is enough for 2-0, and Rybakina need only hold to make the last four.
Rybakina holds to 30 in game one of the decider while, I'm afraid, life has got big on Anisimova. She's broken again to 15, barely asking Halep to work for it, and returns to her chair, bashing bag with racket. This is not easy to watch and when she puts her towel over her face, we fear tears, but she's back ready to receive, the devastation that awaits her already settling in. Sport is brutal.
Halep quickly consolidates for 6-2 3-1 and is looking so solid. A final of her v Jabeur would be something to see, but there's plenty of work necessary before we get to that.
I meant to note that though Rybakina is playing better, Tomljanovic hit her top level in set one and is proving unable to sustain it, a succession of errors handing Rybakina a break to love that means 11 points in a row and, most importantly, a 6-2 set! A decider has been bestowed upon us, and Rybakina is now a big favourite. Tomljanovic 6-4 2-6 Rybakina
Rybakina consolidates to love for 5-2, the decider we deserve almost upon us. She's playing better now, varying her approach while, on Centre, Halep is bullying Anisimova – she's just too quick and too crafty, and when she raises three more break points, a tame backhand that wafts long converts the second. Halep leads 6-2 2-1.
Anisimova secures a crucial hold to 30 on game one of set two, while Tomljanovic plays a loose backhand for 0-15, then slips on 15-30, so must now face two break points. Can Rybakina lift it? Yes she can! Pinned in the forehand corner, she caresses a a cross-court drop with gorgeous disguise, if something imperceptible can be that, and now leads 4-2 in the second! We're hotting up!
Back on No1, we're on serve in set two, Tomljanovic leading 6-4 2-3.
Anisimovz, as I hope she's known in the aforementioned, pastes a blinding forehand return cross-court for 15-all, but on 30-all she hooks another one wide, when the ball was there to be punished. And when the next go drops long, that's the first set to Halep, 6-2. She looks so in control of her game and herself, and what a joy it is to write that about someone who struggled to realise her potential for so long.
Anisimova wins her first game since 1-1, forcing Halep to serve for the set at 5-2. She thinks she's got the ability to win a major, all the more so, presumably, given the wide range of others who've done that recently – she's better than a lot of them. But she's not putting it together today, and if she doesn't steady soon, she'll be back in the locker room alone with her regrets.
It's just not happening for Rybakina, who quickly finds herself 0-40 down. A second-serve ace reduces the arrears, but just as her forehand is dictating the next point, a careless backhand drops long. Meanwhile , Anisimova has chances to snaffle back a break, a=but a forehand swiped wide gives Halep four games in a row and 5-1.
Hello! Tomljanovic misses a forehand to each corner, handing Rybakina 0-30, after which my screen jumps, returning at 15-40. And though Rybakina's approach sits up to be hit, Tomljanovic has cooled, her pick-up allowing the easy put-away. And, though I cricitised that approach, coming to the net was a decent change-up from Rybakina, that'll get her opponent thinking. She trails 4-6 2-0.
Halep has Anisimova's number here, outhitting her from the back and also hitting more consistently. She secures the double break for 4-1, while Rybakina beings her fightback with a hold to 30.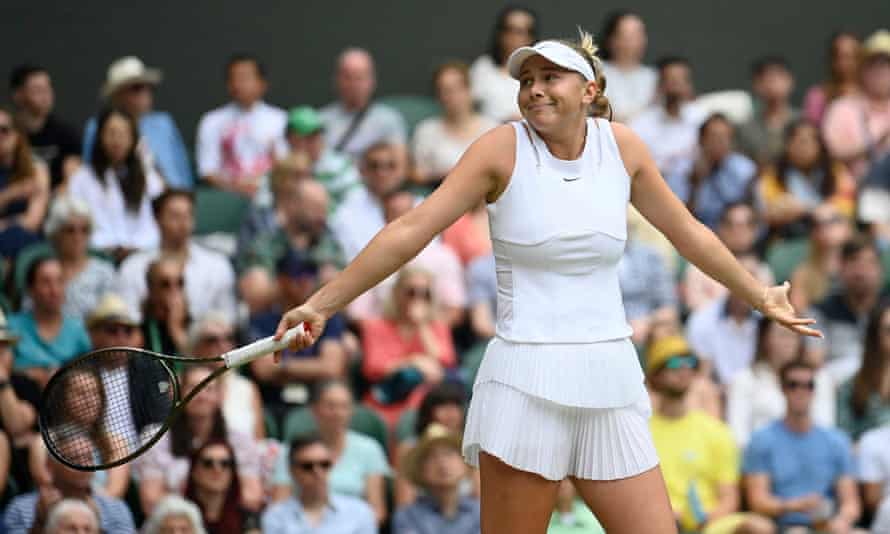 Rybakina gets to 15-30, but a serve out wide followed by a clean-up forehand takes Tomljanovic to within two points of the lead. Another big serve follows, then Rybakina goes wide with a forehand return, and that's the set, 6-4. She's much the better player so far while, on Centre, Anisimova blazes a forehand that forces Halep to slip, but she nevertheless consolidates her break to lead 3-1.
On Anisimova, our resident coach is back, Calvin Betton saying that "Anisimova is good. Been saying that a few years. Beautiful ball striker, good brain, great BH. She just enjoys socialising quite a lot."
Consecutive aces help Rybakina to 40-0, and though Tomljanovic wins a couple of points, another big serve forces her opponent to serve out the set at 5-4. Meanwhile, a careless forehand from Anisimova drops long, handing Halep a break point, and she snaffles it in short oder to lead 2-1.
Anisimova secures a quick hold in the first game of the match and Halep does likewise, as Tomljanovic plays a superb game for 5-3. She's moving beautifully, keeping really low, punishing the ball and running everything down. Rybakina will now serve to stay in the set.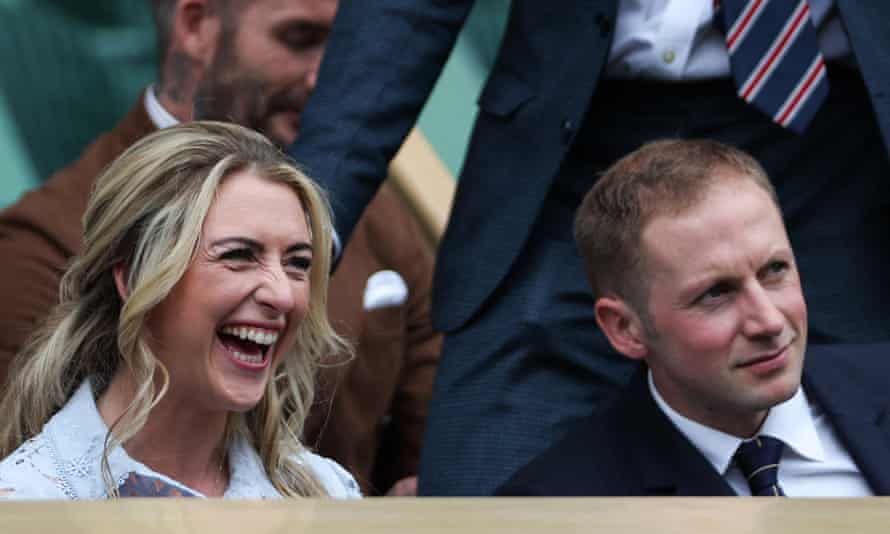 A much-needed love hold for Rybakina, making 3-4, but can she find anything on the Tomljanovic serve?
It's not going great for Rybakina – like Norrie yesterday, she doesn't seem to be feeling the ball. And unlike Norrie, she doesn't have a best of five's scope to find herself, so needs to get going quickly. In the meantime, another easy hold gives Tomljanovic 4-2.
Leading 40-30, Rybakina doesn't wobble, clouting an ace down the middle for 2-3 while, on Centre, Halep and Anisimova are out. This could well be the match of the day, and though Anisimova has a decent chance, Halep has battered everyone she's played, and she's played proper players – Muchova, Frech, Flipkens and Badosa.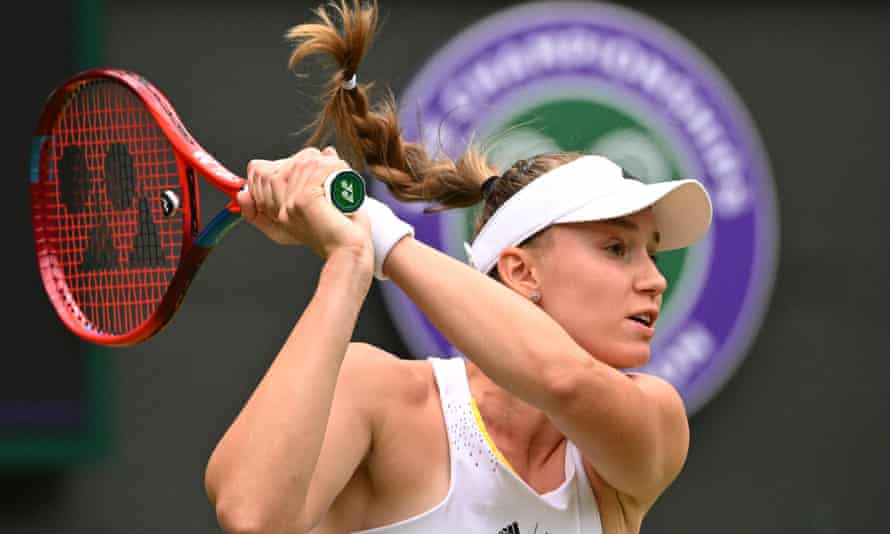 Tomljanovic is the more consistent player so far, calm and focused – she's serving well and also making sure to force Rybakina into playing an extra shot when behind in the rally. But from 40-0, two errors give her opponent a sniff only for Rybakina to shank a backhand. Three games in a row for tomljanovic, and a 3-1 lead.
Rybakina is settling. On 30-all, she has the chance to hit a backhand winner and, very deliberately, doesn't schmeiss the cover off it but guides it sensibly into the corner. But a decent return from Tomljanovic takes us to deuce – she's not waiting to be asked here, another player determined to attack what might be a fleeting opportunity. Or maybe, given she also made this stage last term, I'm being unfair, and some baseline hitting earns her the first break point fo the match … and when Rybakina hits what should be a comfy put-away right at her, she's a chance … but can't control her backhand riposte. no matter: a poor forehand from Rybakina flies long and wide, giving her another go, but Rybakina plays her best rally of the match so far, whamming forehands before administering the drop. But when she doesn't do enough with a volley, Tomljanovic hoists a lob for a clean winner – that's a lovely shot – except when a big serve opens the court, Rybakina again picks the side her opponent is on, and a get on the stretch defeats her leap at an overhead. Tomljanovic breaks and leads 2-1.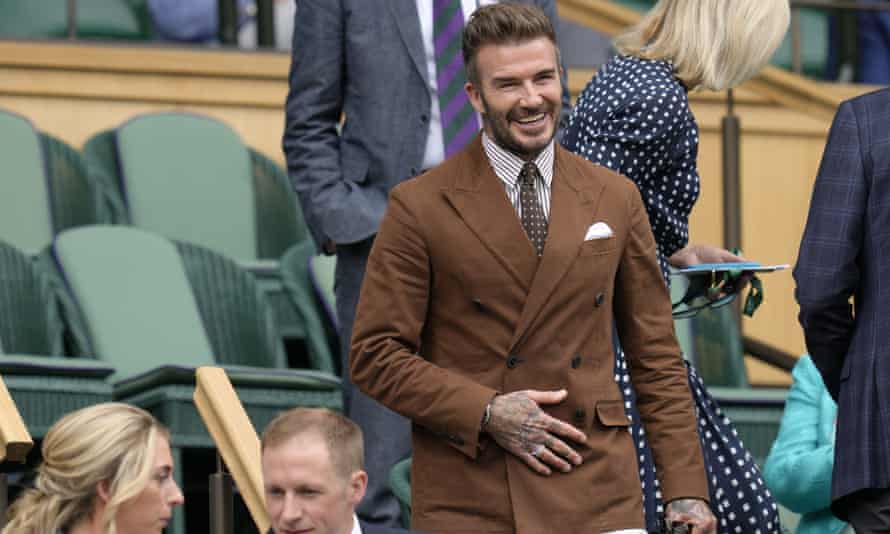 Leading 15-0, Rybakina sends Tomljanovic scurrying to retrieve and looks set to win the point, but again, Tomljanovic finds a backhand, doing brilliantly to arc it beyond the substantial wingspan of the 6" Rybakina, coming in, for a clean winner. She holds to love, and that's 1-1.
Lovely start from both players, Rybakina disbursing a huge serve, then Tomljanovic ramming a brilliant backhand return down the line for a huge winner. Rybakina then goes long on the backhand – that won't help her nerves – but she responds well, winning three quick points for 1-0.
Righto, here we go! Rybakina to serve…
The two are knocking up in an overcast court. It's almost time.
But under way first we've got Tomljanovic v Rybakina on No1 Court, and I must say it's hard to see a way through for the former. Rybakina will, I think, have the advantage in every technical department, and though Tomljanovic is more experienced, Rybakina is a blue-chip talent who believes this is her stage.
A fact I did not know: Anisimova has hit 108 winners so far this fortnight, more than anyone else in the competition. Her win over the in-form Coco Gauff was especially impressive – she lost the first set 7-6, then won the second and third 1 and 2. She played Halep last month and lost 1 and 2, but has Darren Cahill, Halep's former on/off coach in her corner, and if anyone can come up with a winning gameplan, it's him.
Ons Jabeur [3] v Tatjana Maria, Novak Djokovic [1] v Cameron Norrie [9]; we all had these as our first two semi-finals, right? Of course we did, just as we knew that come today, we'd be watching Simona Halep [16] v Amanda Anisimova [20], Ajla Tomljanovic v Elena Rybakina [17], Taylor Fritz [11] v Rafael Nadal and Cristian Garín v Nick Kyrgios.
There was something really special about yesterday's matches, all four going the distance with all four winners coming from behind – and it's no coincidence that of the eight players we saw, only two will have expected to be involved at the quarter-final stage. As a consequence, we got the frantic desperation of those seeking to seize an opportunity that may never come their way again, the ravenous rabidity of others looking to make a career-defining breakthrough – and an all-time great shaping his legacy by haranguing himself in the khazi.
The same is so of today. Tomljanovic and Garín, fine players both, may never reach this stage again; Rybakina is a monstrous talent seeking to announce herself to the world; with Fritz, Anisimova and Kyrgios lying somewhere in between. Then, if to that we add Nadal, probably and improbably halfway to a grand slam, and Halep, a former champion of fragile brilliance fighting back after injury, we have ourselves a flammable gumbo of everything that makes sport – and Wimbledon in particular – so thrillingly and ludicrously compelling.
Play: No1 Court 1pm BST, Centre Court 1.30pm BST